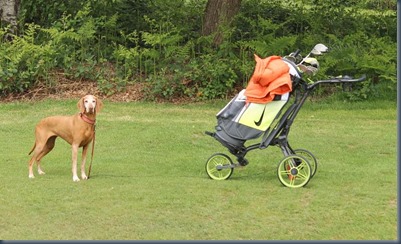 What golf courses in the United Kingdom allow dogs on the course? A simple enough question, but a fine example of how primitive search facilities remain on the Internet.
Google doesn't work for a number of reasons…
Symantec Ambiguity – If you use Google search looking for "dog" and "golf courses", then you just get countless listing of courses with "dog-legs". If you are more specific with phrases like "dogs welcome" or "dogs allowed", then you have to think of all the different ways that it could be expressed.
Proximity Ambiguity – Searching becomes extra complicated when the search engine gets confused by the many holiday breaks and vacation cottages that are dog-friendly and are also next to or part of a golf course. The hotel might allow them, but not the golf course.
Website Dependency – The basic challenge is that 90% of the clubs simply do not indicate their dog policy on their website. Nearly all of my listings came as the result of someone mentioning the club (in forum or blog post or other research) and me following up with a direct query to the course.
In conducting a bit of research for our own doggie golf interests, I decided to invest in a bit of curation to this question to help other canine caring fairway fans enjoy both their loves at the same time. Hopefully, DogGolf can help links-loving dog owners…
Nearby – The number one question, as stated at top, is "where can we all go play a round with our best friends?"
Doggie Holiday – It's not just the weekend outings, but also potential vacation breaks where we might want to plot our destination based on somewhere we can hit the greens all together.
Tips – I have been surprised how little information there is about Dog Golf on the web, despite the fact that it is the intersection of two great loves for many people. I will provide a range of tips and reviews in the blog to help make dog golfing that much more easy and enjoyable.
DogGolf.info has a number of features…
Feel free to contact us with any ideas, suggestions, questions, updates or corrections.
Less rough, more ruff!