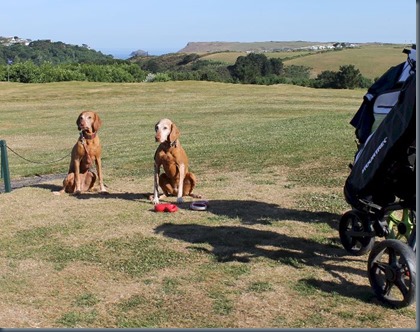 Welcome – Dogs are "most welcome" at The Point at Polzeath, as the pro shop attendant declared. As it turns out, the owner has two spaniels who "chase him around the course". We came upon a number of dog walkers on the course during our round. Even the affiliated hotel is dog friendly. And in fact, this is the first golf club website I've come across that features a picture of a dog in its main gallery.
Walk – The walk is a gorgeous seaside ramble. The course has wide, forgiving fairways and unforgiving greens set up on table tops (so the slightest inaccuracy leads the ball rolling precipitously off the side). You do have a bit of meandering to avoid the tsunami like bunkers of sand popping up everywhere.
Water – A number of streams run through the course with fresh water….
Wildlife – …However, one of the streams were home to a family of ducks that did not seem pleased by Rusty's attention (so onto the lead the she went).
Wind Down – Our Polzeath outing provided the opportunity for a different sort of dog-friendly wind-down. We were just a few miles away from the foodie Mecca of Padstow. We had been to Rick Stein's famous fish restaurant there years ago (and now Padstow is covered in Stein eateries and emporiums), but what we really coveted was a meal at Paul Ainsworth's #6. Paul Ainsworth is my favourite celebrity chef. I was captivated by with warm and insightful coaching style on Master Chef a while back. Then, he graced Kerridge's "Pub in the Park" in our home town last year. I thought he would send a few sous chefs to pump out a few token delicacies for the event, but instead he was right there on the front line working on every one of the hundreds of dishes they served that day.
So hitting #6 had been on my culinary bucket list for some time. The problem was what to do with the dogs? Ainsworth at #6 is a lot of things, but it isn't dog friendly. It turns out that the cottage we were staying at did not allow pets to be left alone. So we went on the hunt for dog sitter at very short notice with a quite unconventional brief ("could you look after our two dogs for a couple of hours?"). Fortunately, we discovered just the most professional, warm, and accommodating dog carer – Susan Sharp (and also poised and understanding in coping with an unprecedented bolt by Miss Rusty). She is in Wadebridge, right on the way to Padstow . So if you want the ultimate post-round refreshment (or any other dog caring while vacationing in the area), I highly recommend you look up Susan's service.