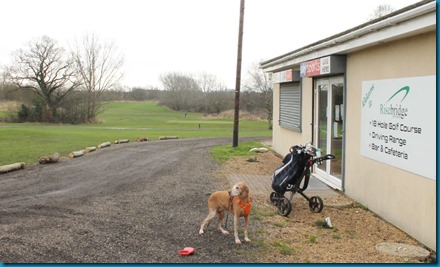 Welcome – Risebridge gave one of the warmest doggie welcomes yet. Well, warm meant literally and best in Grace's eyes for sure. Being a more than chilly day in January, we stopped at the main building (which is also conveniently the "halfway" hut at the 9th hole), to warm our bones with what was some quite delicious vittles. I had the meaty muffin and Lori a most cheesy omelet with chips. And Grace had a couple of heated sausages offered gratis by the kind proprietor. We offered to pay for them and she responded, "That's okay. We like dogs around here."
Water – Water is a bit of a moot subject in middle of the winter. There are puddles everywhere and one doesn't get as thirsty in the colder weather. Still, the course had quite a number of water run-offs throughout the course and a few small water features near the 5th, 11th and 14th holes. And the clubhouse has a dog water dish on the patio for mid-course or end of round refreshment.
Walk – Like most clubs in the London area, the course was pretty much flat throughout. Well, "flat" in the overall layout. Many of the fairway we flanked by elongated hillocks which gave the sensation of playing in a trough. Also, the fairways themselves weren't exactly "flat", but instead characterized by cross-wise ripples in the turf like some frozen liquefaction of an earthquake. If the soggy ground didn't stop your approach shot in its tracks, the array of mini sleeping policemen did.
Wildlife – More magpies around than you can shake a salute at, but otherwise not much to distract Grace.
Wind Down – I've already exceptionally warm welcome from the clubhouse café which offered a range of freshly cooked food and plenty of re-hydration alternatives (hot and cold).