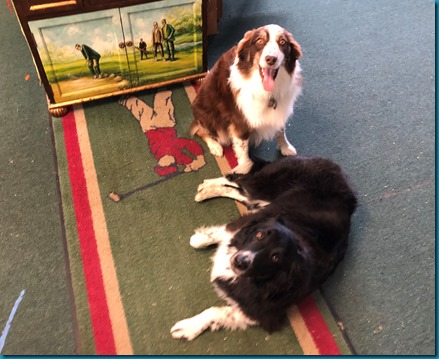 Happy New Year! Long time since I've checked in. Primarily because the English winter weather has descended making rounds hard to squeeze in between the gaps of rainfall and the shrinking daylight hours. Fortunately, we were able to juggle the various COVID controls and get ourselves to the USA to see family for the holidays. Lori's family lives in North Carolina which is quite a popular golfing destination and we not only had plenty of courses to choose from, but warm and dry weather to play in!
One of our rounds was at the Southern Hills Golf Course in Danville, Virginia. When we arrived, we were greeted by a couple of charming canines (see photo above) and thought that we might just have stumbled on a rare dog-friendly course in America. Unfortunately, the friendly welcome was confined to the pro shop and dogs were not allowed to accompany players. But I did have a very friendly and informative chat with the proprietor about some of the distinctly American challenges to welcoming dogs so I thought that I would share them here:
Less Dog Friendly in General – The USA is simply less dog-friendly than Europe. This "20 Most Dog Friendly Countries in the World" list features 13 European countries and the USA is nowhere to be seen. Our American friends are astonished that we can bring Grace to accompany us not just on the golf course, but also to pubs and cafes for meals.
Less Walking the Course – Not wishing to propagate the "lazy American" stereotype, but our visit made it clear that walking the course is much less common. We had always noticed the preponderance of buggies on American courses when we played there in the past. In some courses, buggies are virtually mandatory. Southern Hills didn't even offer trollies to rent (though you could carry your bag). In fact, Versed noted that Americans are 6 times more likely to use a golf cart than Brits. And if you're not walking the course, it doesn't make much sense to bring your dog along. An article in Golf.com observed:

"Sure, golfers in every country forego carts, but in the British Isles walking is more or less compulsory; you generally need a medical exemption to get a cart. Whatever the conditions — in wind, rain or hail — Brits grab a trolley and off they go."

More Insurance Restrictions and Lawsuits – As much as Americans don't like walking, they notoriously do like to file law suits. As a result, insurance (the public liability insurance that you purchase to protect your from lawsuits) dictates many aspects of business and public life. This consideration was also prominent for Southern Hills who told us that their insurance company would flat out not permit them to have dogs on their course. I was able to get an expert perspective from Peter Small, Area Senior Vice President of RPS Bollinger Sports & Leisure who specialise in golf course cover:

"Some policies have an 'animal exclusion' and other don't, however if the dog is not owned by the golf course and a member of the public brings their own dog on to the course, there is really no liability on the golf club for the actions of that dog. I would assume most golf courses would require a waiver signed prior to allowing the dog on to the premises which would/should put the sole responsibility of the dog on the owner. Many other variables could impact the coverage depending on what state the club is located in."

Less of a Tradition – UK tradition of golfing with dogs started from the gentlemenly roots of the sport which shot birds with their dogs in the winter and shot birdies with their dogs in the summer. This heritage created a tradition very early in the sport's history. The first golf club in America, Saint Andew's GC in Yonkers NY was set up more than a century after the nearly eponymous home of golf, St. Andrews in Scotland east coast led the way with establishing the sport in the USA. On the other hand (or other side of the country), game (pheasant) shooting as a sport started more on the west coast and Midwest. So in the formative years of USA golfing, bird dogs were not as prevalent among the golfing crowd.