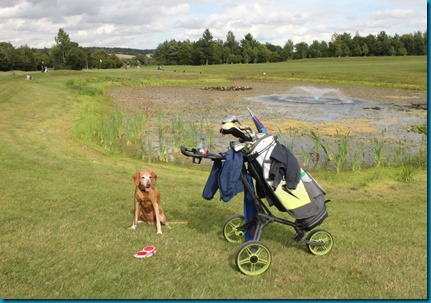 Welcome – Epping wasn't just completely welcoming to Grace, but they all the players we came across were exceptionally amiable. As typical during the post-COVID golf craze, the course was packed, but everyone was in good spirits and generously coordinating play.
Water – More water wonderland with 7 water hazards. Only the 3rd hole was the hazard directly between the tee and the green. And even then it was a modest 100 yard distance to cross. All of the others were unobtrusively lurking off the side tempting the stray shot. All water holes were very accessible for Grace and she enjoyed wading into each for a quick lap.
Walk – Rockin' and rollin'. The course winds up and down (considerably) and side to side overlapping on itself. The ups take you to some striking vistas (though the nearby M25 is not the best of them). This was one of the most visually interesting courses we've played in a long time. The 12th hole is a short par 3, but with a phalanx of topiary shrubs filling the approach making one of the most whimsical obstacles I seen on a course like playing on a Tim Burton film set.
Wildlife – Despite all the water features, we didn't see any water fowl (most of the water pools were fairly small). Just a few urban fowl – pigeons, crows – fluttering past.
Wind Down – We tried to hit the Forest Gate Inn just down the road but arrived 5 minutes past their 7:30 pm closing time on Sundays. It looked like a good and convenient watering hole with plenty of outdoor seating.