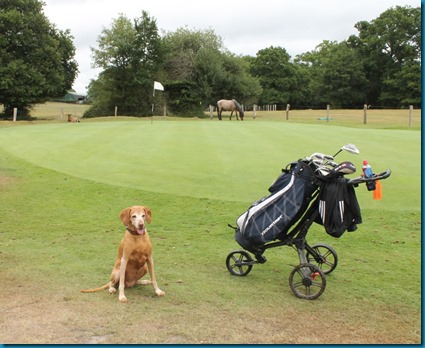 Welcome – Our New Forest get-away weekend took us to Bramshaw the following day. They have two 18 hole courses. The Manor Course is the fancier one by the clubhouse which does allow dogs, but only during quiet times. The Forest Course is just down the road a few hundred meters (you have to drive their after you pick-up your bag-tag at the clubhouse). Being in the thick of the New Forest common land, dogs (golfing or not golfing) run freely all over the place. The New Forest course set in the untethered wilds of the New Forest with wandering ponies and other assorted creatures where the dogs fit right in. Many dog walkers traverse the grounds and we came across a group of ramblers on the 5th hole with a half dozen dogs in tow
Wildlife – We came across a handful of legendary ponies during our round, but much fewer than the New Forest course itself. And no cows or other livestick.
Walk – Bramshaw's New Forest course is a bit more topologically eccentric than the simple grasslands of New Forest golf club. In fact, we ended up nicknaming it "Ferngully" after the classic children's animated film because the course was littered with ferns and gullies. In fact, half the holes seemed to be hidden away in some Hobbiton-esque crevasse nestled in some hidden corner against the forest itself. And if your ball didn't get magically made invisible in some secluded corner of a Bag End facsimile, then it might just have rolled into one of the myriad fern croppings littering the "fairways".
Water – A the bottom of all of the gullies, were little rivulets with some water which often seemed fine enough for Grace to take a sip from, but they weren't flowing that much this late into the dry season of the summer.
Wind Down – We proceeded to The White Hart at Cadnam for a lovely Sunday roast. With Grace quite puckish herself, we asked the server if the kitchen had any scraps from the roast prep (eg. gristle, fat) that we could treat her to. A few minutes later they generously brought out a little bowl of cut up roast beef pieces that looked good enough for a human to enjoy (though Grace gobbled them down before we got any ideas).