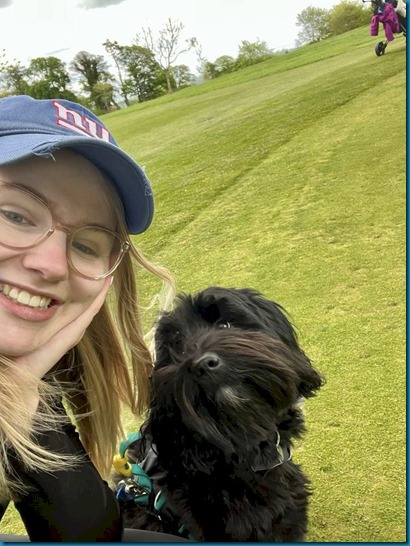 And other delightful account from the roving northern Dog Golf correspondent team of Bertie and Steve:
Having visited the highest and oldest nine hole golf courses on this holiday we then played Alnwick Castle. This would be easier for controlling Bertie as we were joined by the youngest daughter. On arrival went in to pay, told the lady the secretary had said we could bring a dog, she didn't bat an eyelid "no problem".
Now Alnwick Castle is a real 18 hole course, and it is a club that is on the up. I understand the Duke of Northumberland owns the land. While we were there work had started on a new club house and there will also be a number of expensive properties built on the outer edge of the course.
It is £15 a round and a small charge for trolleys and the current clubhouse is next to one and eighteen so nine if furthest from the clubhouse, this will change as the new clubhouse is right in the middle of the course.
The day we went there was a seniors competition on and none of these even noticed the dog. Mrs B parred a short par 3, well done her. Couple of seniors saw her drive the ball straight onto the green and then me shank it wide left onto their tee. They were still waiting to play as we arrived and the old fellas just gave me that pitying look as i was clearly being outclassed. One whispered "My wife does that when i play with her as well"!
The course opens up into an open parkland course with good views of the surrounding countryside. There are some steep climbs but overall it was in excellent condition. There were lots of ground staff knocking about and they all waved and said hello as wed passed with Bertie.
On returning to the clubhouse for a drink the bar staff insisted that Bertie be served first taking a bowl of water out to him before we could even order ours!
It is a good course and the addition of a new clubhouse will really enhance the experience, we speculated about buying one of the houses should our lottery numbers come in.