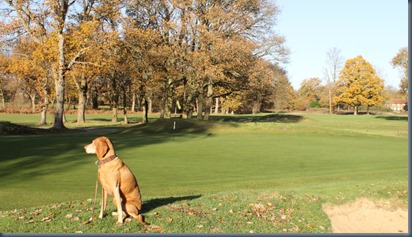 Welcome – On a number of occasions in the past, our welcome was a bit less than anticipated (typically because either someone was misinformed who told us that dogs were welcome or because the policy had changed since the enquiry), but Burhill Golf Club turned out to be a surprise of the pleasant kind. According to our records, Burhill had responded to our enquiry about the dog protocol saying that they were not allowed, but my friend Peter Cummins is a member there and was surprised to see them not included in the database. He told me that a number of players take their dogs around for rounds. In fact, Peter and his family recently adopted a spaniel puppy who he is training diligently to be able to join him on the course. Peter and I hadn't seen each other for a while so he invited us for a round – me to catch up with and Grace to check out her dog golfing style (I've duly updated the database).
Walk – Burhill is a stunning venue. Beautifully laid out with gently undulating landscape and just enough hazards to keep you on your toes (we played the Old Course and I understand the New Course is a bit more challenging).
Wildlife – We happened upon a few Egyptian geese who were as nonplussed by Grace and she was by them.
Water – We played the Old Course which is (gratefully for me) devoid of water hazards (though the New Course has several quite large ones). Not a problem for Grace's thirst though as the "Halfway Hut" served up a doggie dish of fresh drink before even taking our order (however I think Grace would have been happier with a sausage roll of her own instead of the few crumbs we shared with her).
Wind Down – Our threesome settled down for an outdoor lunch in the atypical (nearly) December sunshine for a lovely salad and sandwich (as well as another doggie water bowl at the ready) at the clubhouse (dogs are not allowed in the clubhouse).