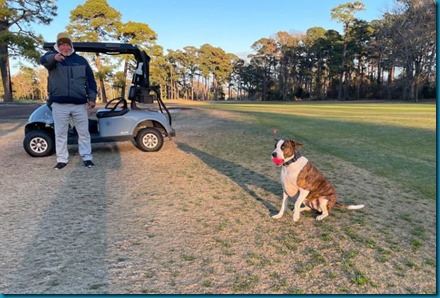 Welcome – Just when I had started giving up hope finding dog-friendly courses in the USA, I stumbled upon a Christmas gift of serendipity. Over the yuletide holidays, we were visiting my sister-in-law who has a beach house in Myrtle Beach, South Carolina. Once the weather warmed up a bit from the unseasonably low sub-zero temperatures, we decided to play a round. We were spoiled for choice as there are over 80 (!) courses in the Myrtle Beach area, but we ventured to the nearby Beachwood GC. A lovely course who just blocks from the beach (so some of the holes have bonus "sand" bunker lining the entire flank of the hole as underneath the landscaping surface is essentially a big sand pit. As we were finishing our play, we came upon the Kevin with his lovely dog, Josie (see photo above). He was in a golf cart and going from hole to hole so I thought he was playing, but when I approached, I saw that he didn't have clubs. So, I feared that it was just another example of a groundskeeper bringing along a canine companion, but playing with them wouldn't be allowed. But (after a cheery welcome from Josie – see below) it turns out that he was the GM of the course and confirmed that dogs were indeed welcome. He noted that several members bring their pups regularly. Bingo!
Walk – As you would expect from a coastal course, the walk is completely flat (which was welcome as I'm not sure our post-feasting condition could have managed anything much more challenging).
Water – Half of the holes have water hazards, many of which are quite substantial, but I'm not sure how much of an opportunity for a drink on a hot southern summer's day as they are likely quite brackish. But the course does wind back around to the clubhouse at the 9th so you can refill your water bottle/dish.
Wildlife – SQUIRREL!!! And not just any squirrels, but these huge, fluffy, and fairly tame black squirrels the likes of which I had never seen before. They were captivating Lori's and my attention so who knows how distracting they would be to a canine companion.
Wind Down – Finding dog-friendly eateries in the USA is just as hard as finding golf course. https://www.bringfido.com is a great site with a database of dog welcoming establishments. It shows a Krave Bagel Bistro right next door, but the Beachwood course also does have a restaurant with an of grilled items.