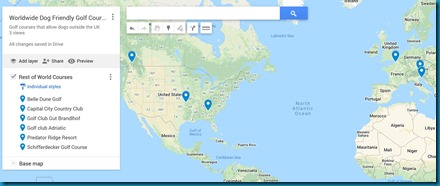 In my recent research, I happened upon the Lebanon Turf dog golf calendar. They publish a "Dog Days Of…" calendar every year:
· "It's that time of year again where we at LebanonTurf, along with the Golf Course Superintendent Association of America (GCSAA), get to know a new round of golf dogs. Every year, we take submissions from golf courses all over the country who want their pal to be featured in our Dog Days of Golf Calendar. And each year, one of these lucky calendar dogs is chosen as our Dog of the Year, which comes with some pretty great perks."
With 4 years of calendars (52 dogs featured including cover), I thought that the profiles about the dog and their course would be a great source of finally finding some dog-friendly courses in North America where dog golfing is virtually unheard of. However, after reaching out to the first 26 courses featured, it turned out that just because a dog was pictured on their course doesn't mean they allow dogs. In nearly all cases, the dogs belonged to the course superintendent or grounds keeper (the Lebanon Turf customers) who brought their dog to work for the day just for the photo op.
Still, I did find Zelda (directly below) featured from the Schifferdecker club in Joplin, Missouri, USA. I did add her to my list of other courses I have stumbled on across the world adverting dog-friendliness from Croatia (see photo at bottom) to British Columbia, Canada. With several in hand, I thought I would start a Google Map of the Rest of the World courses for reference.
As always, contact me if you know any others and I would be glad to add them to the map/list (and also welcome a guest post if you are so inclined).