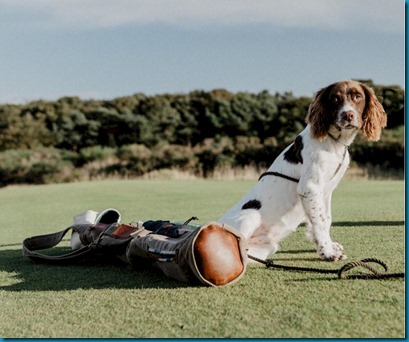 Welcome – We had our first round on a dog-friendly course in another "country" – Scotland. Sadly (for her as much as us), Grace couldn't join us for our weekend city break to Edinburgh, but that didn't stop us from hitting the links for our first ever links round hosted by a dear friend, Lindsey in the land of dog friendly golf. Driving to Kilspindie we passed a number of other courses (as you do in Scotland) and on every one you could see several players with dogs. As soon as we arrived, we were greeted a member coming off the course with his spaniel in tow.
Unfortunately, we did happen upon any pups on the course itself during our round to provide a photo opp for this post, but I did find this Instagram post by Erik Anders Lang of resident golfing dog Zulu:
"You may know Zulu from our time with Malcolm Duck during the Un/Official Guide to Scotland. Malcolm, in his zest for life, is one of the greatest hosts in Scotland – an already highly hospitable country – telling stories and singing while his faithful Springer Spaniel Zulu jumped through the heather during our rounds at Kilspindie."
Walk – The course is one of the shortest full courses we have played at just over 5k with no par 5s. And all flat coastal links. What energy was sapped by the bracing sea "breeze" (mini gale) was reinvigorated by the stunning 360 degree scenery in view at every step.
Water – The course features a fountain (turned off for COVID) at the end of the 10th. Otherwise, lots of "water, water everywhere" surrounded by the ocean.
Wildlife – Perhaps the most unusual wildlife creature spotted from a course (though not on the course itself) were the sea lions sunning themselves on the sand bars in the bay. While their namesake is feline, these intelligent and alert aquatic creatures have a personality and demeanor more like canines.
Wind Down – The hurried down the road to the Longniddry Inn for much needed a warming Spanish coffee (made properly) having had a big lunch at The Old Clubhouse in Gullane (which also welcomed plenty of canine companions).