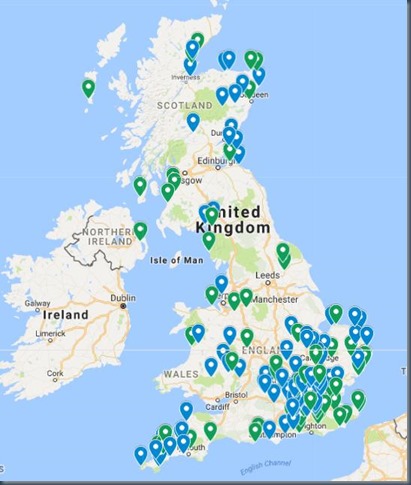 One of most powerful features of DogGolf.info is the Google Map of dog friendly golf courses. This capability allows you to find the closest clubs to where you are (home) or where you might be (holiday). It has been vital for us planning some upcoming golf vacations to Cornwall and Scotland (both very dog friendly part of the world where golfing is concerned. But it is also helpful for short trips. We are visiting friends for a weekend in Suffolk and used the map to plot a course where we could play a doggie round en route on the Saturday and another coming back on Sunday.
The map also makes two colour-coded distinctions:
Blue

= lead required
Green = off lead under control allowed
Also,  there are few symbol distinctions:
"✪" indicates that we have played the course and reviewed it on the site (these courses will also feature a picture from our visit).

"⊗" indicates a membership constraints (typically that membership is required to play the course or to bring a dog).
In the future, I might add "layers" for price ranges or other variables if I see there is and interest.