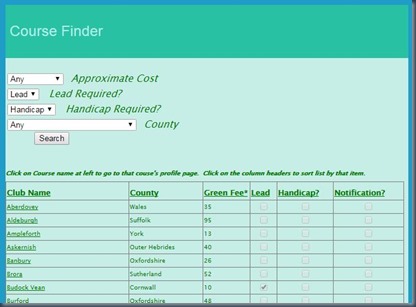 The database of dog-friendly golf courses is really the heart of DogGolf.info. Everything else is just gravy on the bone. The database is about having a complete list of possible courses, but also an interactive one that you can interrogate to find the one just right for your pack whether for a weekend outing, an extended holiday or even a long term membership.
At the outset, the information will be more thorough within a 25 miles radius of our home in Marlow because (a) our network is deepest there, and (b) I am doing more in depth research in that area (out of self-interest obviously). That means Buckinghamshire, Berkshire, Oxfordshire will have more comprehensive information with a bit of Surrey, Hertfordshire, and Greater London as well.
The index of the whole dataset is the Course Name. We use the short name, not the full on "East Wimblebottom Golf & Spa Resort" (so don't set your brand police in your marcom department on me to 'correct' it).
Several fields in the database you can filter on…
County – So you can get a short list of places close to you.
Postcode – For alternative geo-search
Green Fees – Highest listed for peak times. Vary by times and promotions so just approximate. $0 means no visitors, members only.
Lead required? – Well-trained and biddable dogs might find such courses a bit confining.
Handicap Certificate required? – Many of the finer courses allow dogs, but they do insist on handicap level playing standard.
When you get a listing of courses, you can click on the club name to take you to a Profile snapshot of basic course information. The profile is limited to details that would be of greatest interest to dog-owners. It is expected that if you needed further details, you would click on the link to their website (included in the profile) to find those things out.
Picture – I include one picture of the course just to provide a small sense of the nature of the property (a picture worth a thousand words), but I suspect most people looking to get a feel for the grounds will go through to the course website itself.
Notes – The "dog policy" of the course in their own words (usually from their website, an enquiry response or some other reference)
Members Constraints – Sometimes dogs are only allowed for members or when playing with members. I kept in the "Members Only" clubs because (a) people might be searching for a club to join.
Time Constraints – A some courses dogs are not allowed during specific times, most commonly (a) competitions, and (b) peak busy times.
If anyone has any suggestions of other details we should research and track, please forward them to grace@doggolf.info.