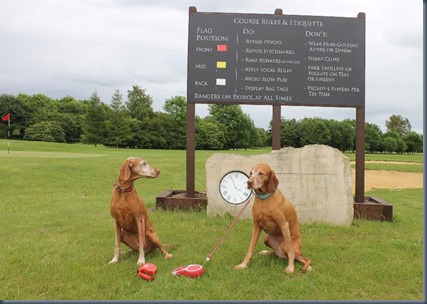 A bit of water only enhanced this expansive course a few miles to the northwest of Oxford. We went up to Whitney Lakes this weekend despite calls for some periodic showers. The showers did come, but it didn't really impinge on our game too much. After getting a bit damp on the 4th hole, we absconded to one of the shelters on the course by the tee on the 5th to enjoy some snacks while the darkest clouds blew over. In a few minutes, the weather had cleared and we not only enjoy bright sunshine, but a last afternoon rainbow (see below).
Welcome:  Whitney recommends and prefers that dogs be kept on leads, but if the dogs are very biddable and well-behaved and the course has light usage (like it did when we played due to the inclement weather), they are happy for the dogs to be let off for a well-controlled freer amble.
Water:  Even on dry days there is plenty of water on the Whitney course with 3 big ponds on the grounds. Fortunately, only one stands between you and the tee on hole #8, but the other sit tauntingly adjacent to the fairways eager to swallow up stray slicing shots. Rusty and Grace enjoyed a cooling romp and tasty drink in one (until a huge, resident swan in one decided he wasn't in the mood for visitors and chased them out).
Walk:  Whitney offers a good, long walk. There are three Par 5s (mercifully all followed by Par 3s) as well as mostly 350+ yard Par 4s adding up to a longish 6460 yard ramble. It might be a long walk, but it sits virtually all flat on the Oxford Plain. Good for the guys – long, wide, open fairways. Good for gals – red tees are 50-100 years in front of yellow.
Wind Down:  On the way home, we stopped for dinner at The Butchers Arms in Headington. Not just a dog-friendly pub, but simply one of the most all around friendly pubs we have been to. The owners are gregarious and welcoming as are the two resident cats who wander around (completely unfazed by any of the visiting canine customers). The food is superbly well-prepared and it is a great post-round water hole between Whitney Lakes and the M40.