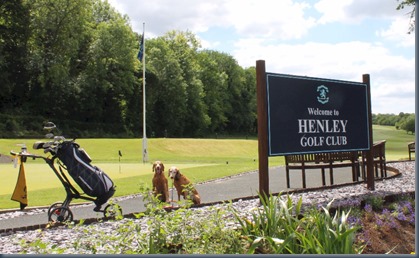 Welcome – One of my other sporting websites is all about rowing and now is the apex of the UK season with the Henley Royal Regatta. In the spirit of "The Season", we thought we would venture a bit further from Thames Valley to the Harpsden Valley for a round at Henley Golf Club. A couple of friendly greeting to the girls from the members made us feel welcome, but the most telling was that we actually saw another golfer playing with their Golden Retriever. While lots of courses welcome dogs (as many as possible catalogued here), still the acid test is how many people actually take advantage of it (to set the tone and make you not feel like such an anomaly).
Wildlife – Again, a distracting squirrel fest mostly.
Walk – Mostly a modestly undulating walk except for a few holes with greens perched on virtual precipices requiring crampons and grappling hook to summit.
Water – Despite the absence of bodies of water, the course was one of the best water supplied we have to. The course has stone water fountains on the 11th and 13th holes, as well as a toilet near both the 7th and 9th with running water.
Wind Down – For the first time ever, we tried what I guess could be dubbed a "wind up" rather than a "wind down". We went to a pub meal before our round rather than after. It avoided all of the pressures of finishing in time before kitchens closed and it fueled us up for a sunny 18 holes. Once again turning to DoggiePubs, we decided to try the Angel on the Bridge pub right on the river and in the epicenter of Regatta buzz. The food is sort of a cross between conventional pub grub and trendy gastro. Tasty dishes sadly executed quite poorly. Both the pea with ham soup and the seafood chowder were extremely delectable, and the fish-and-chips were prepared nicely with not too batter. Unfortunately, the sides (fries, peas) were quite cold (actually the soup wasn't hot either). And the fish goujons were quite underwhelming (also cold). Worst of all, the jugs of Pims were the weakest Pims I had ever tasted. More like Lemonade with a touch of Pims essence. But the biggest problem was the service. They mistakenly brought our starters and main together (due to a mix up in the note taking), and tragically, told me that the chowder did not have mussels in it (because I am allergic to them!) and lo and behold I found one floating in the bowl after I had taken a few sips (no effects fortunately). They were very courteous and they not only removed the soups from the bill (which we didn't eat), but gave us our Pims (such as it was) complementary.