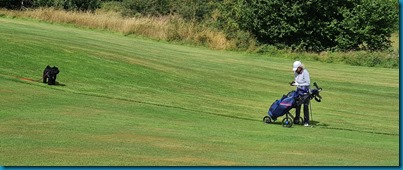 Our latest guest post from Bertie (and his persons Steve and Mrs. Brown) not only provides another pooch perspective on par play, but also highlights the imperative to "keep asking". While Dog Golf UK tries to keep its database up-to-date, my experience has been that policies change from time to time. Usually this shift has been the unfortunate case of being informed that a course doesn't welcome dogs after all despite someone telling me previously that they did (I document all my calls to clubs who tell me they allow dogs). In the case of today's Sedbergh, the report is a fortunate addition to the database. When I had contacted Sedburgh previously, they said that dogs were not allowed,. But when Bertie did a round and I double checked, they were hesitant but in the end said that people did bring their dogs on the low periods of Tuesdays and Wednesdays. Thanks to Bertie for not just another review, but also another course for people to check out:
Another weekend away with friends who have a place at Barnard Castle, and we needed a course we could play and have lunch. We settled on Sedbergh and what a gem of a course. Nine holes (18 tees) and it is immaculate.
Some very tricky holes, with drives over river gorges, water features and some tricky undulating ground. This is a course that no one will take apart.
Its £15 for 9 holes and having a dog is not a problem. The owner is on site and very welcoming, his son is the greenskeeper. There is a fabulous clubhouse, more of that later.
The first hole is tricky with hole protected by bunkers, unseen, the second a drive across the river onto a green. Then a short walk takes you to the third well over 500 yards and you can see a Victorian iron railway bridge behind the green. It is a very picturesque course.
You have great views of the Yorkshire dale. Another par 5 has the green protected by a ring of water. Eventually we arrive at the 9th. A green you feel you can reach. On our visit there were two societies starting off on our return.
Dogs are not allowed in the clubhouse but they serve one of the best steak and ale pies this northern lad has ever had on the verandah. Mrs. Browns' fish pie was also excellent.
What of Bertie our Tibetan Terrier, after all this is about golfing with dogs. I think Bertie has decided that golf balls are not worth chasing. He allows us to play our shots, and whereas once he had to have his own ball he isn't interested now. We do use a lead to tie him up when teeing off and putting wherever possible. We have a long lead and he now trots happily alongside us, we do stand on the lead if we need to do so. He still won't sit and look at the camera for the killer photo!
The big problem I have is not controlling a dog while playing, but the fact Mrs. Brown is obviously already a better golfer than me and the gap is only getting wider!