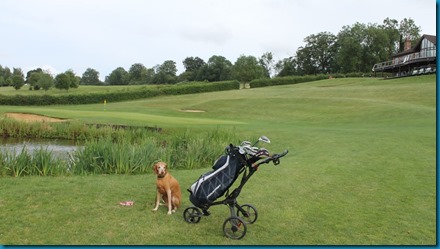 Welcome – Throughout our round at Surrey National we encountered dog-walkers on the bridleways and rambling paths which crisscross the course, and every member we came upon was quite enchanted by Gracie-girl.
Walk – While much of Surrey is low-lying downs, Surrey National is in the western Surrey Hills. Located in Caterham, the first clue was in the town sign welcoming us to "Caterham on the Hill". At times, the fairways seemed like something out of the film "Inception". On one hand the they were exceptionally forgiving being some of the widest fairways we have played (much to Grace's disappointment as we didn't hit a single drive into the rough all day). On the other hand, if you didn't drive with some degree of precision, you would find yourself rolling to all sorts of inconvenient lies. The verticality does make the course exceptionally photogenic with dramatic vistas at every bend (we gave Grace treats for posing for the extra photos we were taking since she was missing out on ball-finding rewards).
Water – Two sizeable water hazards were reasonably accessible and fresh, and the course swings back around to the clubhouse for water if needed.
Wildlife – Despite the two ponds, we didn't come across any water fowl, but curiously we encountered pheasants on the course several times. Our house is crawling with the game birds (and English partridge) so Grace was completely non-plussed.
Wind Down – Another week before pubs open properly, but the bar at the Surrey National clubhouse was selling bottled drinks and snacks. We joined quite a few golfers grabbing a drink and sitting on the large knoll overlooking the 18th green for a bit of a wind-down at the end (see photos at top and bottom).
[UPDATE:  Unfortunately, a reader reports that Surrey National is no longer dog friendly – see comment below].