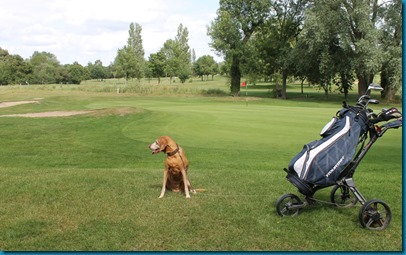 Welcome – The Abbey Hill golf course is part of an elaborate complex which Includes:
18 Hole course
Par-3 course
Foot golf course
"Pirate Adventure" "crazy golf course (or "miniature golf" as the USA northerners call it, or "putt-putt golf as the USA southerners call it).
So, the place has a very relaxed vibe where a canine in tow did not seem out of place at all. In fact, we did happen upon a couple of dog walkers strolling on the paths flanking the course.
Walk – Again, in the upper reaches of Buckinghamshire levels out so the entire course is laid on largely flat terrain.
Wildlife – Only a few random birds and squirrels.
Water – With a deluge of rain the week before, a number of bunkers had become their own beachy water hazards on the day. The course features a few proper water hazards in back nine, but even with the recent rainfall, they were mostly stagnant and wouldn't have been much refreshment for Grace. Fortunately, the 10th hole returns to the main building where you can refill your water bottle.
Wind Down – We found a pub nearby offering take-away, but we couldn't finish our round before they closed the kitchen for the day (at 5:30 pm…go figure). During non-COVID times, the main Abbey Hill Golf Centre features a Café Bar & Grill with a specious outdoor terrace that would seem to suit nicely.