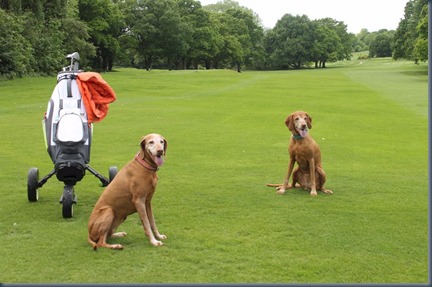 "Golf is a good walk spoiled" – H S Scrivener
"If aliens saw us walking our dogs and picking up their poop, who would they think is in charge? " – Anonymous
Why would one want to spoil a walk further by having to cater to a barking, fouling, rampaging mutt? along for the round?
TIME – One of the biggest obstacles to golf is time commitment. Absconding from home for 4 hours often doesn't ingratiate you to the rest of the family. If it means that you can't help with the dog walking that day, then you are being even more delinquent. A decent dog walk takes an hour for most medium to large breeds. Instead of shirking this chore on golf days, you can actually give Fido a bonus walk. If the family pressures you about another morning on the greens, you have a family ally where you can plead "But Fido loves it so much!"
COMPANIONSHIP – We love our dogs. Especially when we are away at work and other commitments, spending time with them outdoors and in the sunshine is one of the very reasons we have them in the first place.
DOG CARE – It's not nice leaving dogs alone in the house for extended periods of time. They have to cross their legs increasingly tighter, get hungrier past dinnertime and tempted into mischief. When we bring our dogs, we can travel further and stay longer (eg. for a drink, dinner, overnight) if we don't have to worry about the dogs cooped up all day.
RETRIEVAL – Many dogs can and have been trained to locate balls in the rough. This saves the golfer time and lost balls. It also speeds the play to everyone's benefit (searching for lost balls is one of the biggest causes of slow play).
There are about 2,630 golf courses in the UK (according to Wikipedia), but so far I've only uncovered just under a hundred that welcome dogs. I suspect there a quite a number that I haven't ferreted out, but judging on my initial investigation it looks like the total proportion is about a few percent of the total. It does vary by region. Scotland, Cornwall and the Home Counties seem to have a higher proportion (one golf pro friend reckoned as many as 70% of Scottish courses are dog-friendly), but there are virtually none in Ireland.
Not everyone will be thrilled by the inclusion of your pooch in your group. It's not just fussy conventionalists who don't like any innovation or change, but many people with very legitimate concerns…
FEAR – More people than you would think have a downright phobia of dogs. Even the smaller "cute" ones.
ALLERGY – Many people are allergic to dogs and a links encounter could stir a sneezing attack or rash that they would certainly not appreciate during their round.
RELIGION – For Muslims, dogs are "unclean" which means if they come into contact with them, they have to go through a rather tedious and inconvenient cleansing.
Nonetheless, a wide range of golf clubs from public courses to the finest in the world embrace dogs with open arms. Sunningdale claims to be the "most dog friendly golf club in the UK" (see video link below). One course, Goodwood, has gone so far as to create a special membership, the "Kennels Dog Membership" just for dogs, with the proceeds going Battersea Dog Home. And the New Zealand Golf Club (in Surrey, not the South Pacific) tells me that "dogs are 'mandatory'" with only a touch of kidding around (they go on to add "if you don't have a dog, there are members who will be happy to rent you theirs for the day.")
Some of the big golf magazines and websites have done articles on the topic of dogs on the course. Here are a few of the better ones I came across which highlight the UK as being a bit more dog-friendly in the golfing world:
GOLF DIGEST– "

We Double Dog Dare You – Bringing your best friend to the course is the most fun you'll ever have

": "In the United Kingdom, dogs are more likely to be allowed at old links courses with lots of common walking ground than at newer, inland operations. And not to delve into a subject as thorny as the British class system, but golf dogs tend to have a stronger tradition at clubs established by land-owning families for whom fox hunting was an important pastime. Golf was just something else to do in clever tweed when not busy training champions bred from royal bloodlines."
GOLF ADVISOR– "

Let the dogs out, already!"

: "Very few public courses in the U.S. allow golfers to bring their dogs along, most likely a result of liability fears and the fact many courses aren't all that walkable. Golf course superintendents, of course, have energetic sidekicks who chase geese and perform other duties. Courses in the U.K. are generally more welcoming to dogs, especially those historic links courses that double as public park space."
ESPN – "

Dogs welcome at Sunningdale

"

"The dogs get so much pleasure from an 18 hole walk…It's so much fun playing golf with the dogs." (thanks Nick Saunders).
Here are a few tips for being a responsible and considerate dog companion player.
UNDER CONTROL – Rule #1 is that the dog must be under control at all times. No yelling "

Fenton, Fenton

…<jc>, Fenton…" if a water fowl, rabbit or squirrel appears. If you are not completely sure about your dog's biddability in the most tempting situations, then definitely keep them on leads. That said, half the courses require them on leads at all time anyway.

GREENS – Dogs are like trolleys…no dogs on the greens.
BUNKERS – No dogs in bunkers either.  If they do wander in, be sure to rake out their prints.
CLEAN UP – Sort of goes without saying, though some might be tempted by the outdoors context to let some "business" off to the side or out of bounds just remain there. But all it takes is someone seeing you not picking up after your dog from a distance to create the appearance of impropriety for the complaints to come in. Or worse, someone traipsing about looking for their ball to step in a mess to get the complaints to really flooding in.
This post is only talking about the courses. There are also specific rules for dogs in the club houses as well as in the lodging which is sometimes affiliated with the course. The club house restrictions are more manageable (if dogs can't go in, you can eat at pub down the road), and frankly the lodging tends to be dog friendly anyway.
In the coming weeks, Dog Golf will explore the world of canine clubbing with tips direct from our own two links lassies (Rusty and Grace – see photo at top) as well as helpful interactive information to assist your next outing.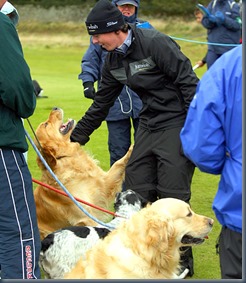 A few Rory McIlroy fans on the fairway.