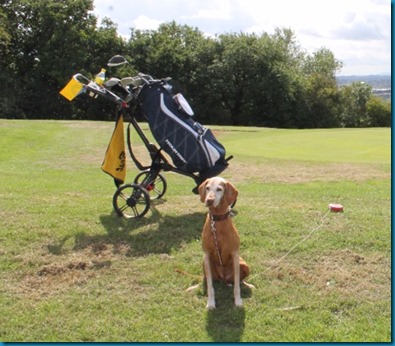 While Grace is the face of Dog Golf UK, since the very start of our canine caddy adventures, Rusty has been her dutiful partner. Today, we said a tearful farewell to her as cancer took her buoyant and affectionate life from us.
Rusty was a carefree spirit who came to life in the outdoors soaking up the fresh air and all the stimulating scents and scenery. While Grace is the consummate golfing companion dutifully finding our balls and trotting diligently beside us, Rusty kept reminding us of the exhilaration just being outside in the gorgeous countryside which is such a big part of why play this often confounding pastime.
She will be missed on the Thames-side trail where we walk, in her cozy blankets by the sofa and bed, and not least of which on the golf course which gave her so much joy and inspired us with it as well no matter how badly our game was going.