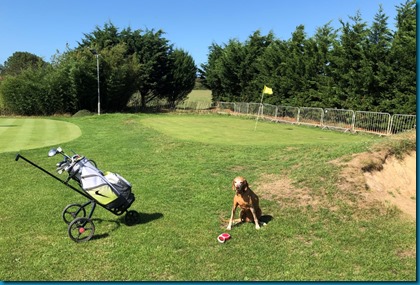 Welcome – Our recent camping "stayUKation" gave us not only the opportunity to notch another dog-friendly course, but also a new county to our list of dog golfing experiences – Dorset. Wessex golf centre was minutes down the road from our camp site overlooking Chesil Beach in Weymouth.
Walk – Under 3,000 yards and all of them flat make this executive course a particularly light dog walk.
Water – With the course being so small, you are really never that far from the clubhouse you could scurry back to if in desperate need of a drink. The 5th hole does sit on the far end of the course and features a small pond which had some fresh water from a recent downpour to give Grace some mid-round refreshment.
Wildlife – A seagull or two passing by.
Wind Down – Instead of Doggie Pubs, we just asked the Wessex GC attendant for a pub recommendation and he proposed Marquis Of Granby just down the street. It appeared to be set in an industrial estate that you pass through, but it turns out to be just on the outside. The "pub" has more of a working man's club feel, but the expanse of tables made it easier to accommodate many people in a social distant way. It did have some outdoor seating at the front and back, but we opted to stay in with the changeable weather. We only had a drink, but the menu was extensive. And one thing that did stand out was the speedy service. I don't think I've ever gotten served my drink so quickly (and at a table no less) which was most welcome.