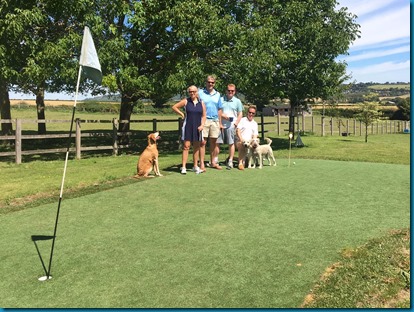 Welcome – Grace and we discovered an incredibly dog-friendly course with probably the most exclusive club membership in the UK right in our own neighbourhood – "Bledlow Ridge". We had been invited to play a round at our much favoured Temple GC with a warm-up "round" (well, more a round of drinks than golfing) at our good friends Neil and Sarah. Their lovely country links included an admittedly small facility, but what it lacked in expansive playing field, it made up for in expansive views. And what it lacked in playing limitations, it made up for in fewer dog limitations as their high-tech playing surface meant that the dogs could wander freely wherever they wanted including the greens themselves. In addition to a new "course", Grace met two new buddies, Baxter and Bailey. They weren't quite ready for the big fairways, but they were literally right at home at Bledlow Ridge.
Walk – Ten metres from end to end, and completely flat, makes the walk by far the easiest in the UK.
Water – The "course" had dog bowls on ready offer (and stronger stuff for the golfer sthemselves).
Wind Down – Our follow up to the elite "Bledlow Ridge" (membership is strictly vetted) was a full round at Temple GC hosted by Neil (the founder and owner of Bledlow Ridge GC) who is a member there as well. We were quickly reminded of why we were so infatuated with Temple when we first played it at the outset of our dog golfing odyssey. The clubhouse and 18th hole might simply have one of the best course views in the UK. The dog friendliness is evident as we were greeted by a couple of canine companions at club deck when we arrived. The course is challenging enough (especially summiting some holes like the 17th) and interesting enough (plenty of twists and turns and the inimitable vortex of doom on the 10th). To top it all off, being out on the hottest day of the year, the club was sending around a cold drinks cart which kept us refreshed especially having quickly consumed our several bottles of water we had brought along.