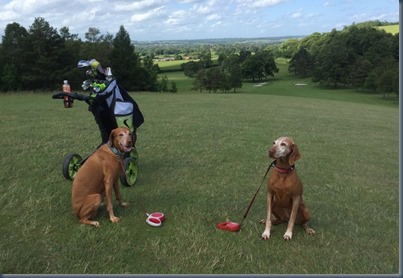 We may have found our new dog golfing home – Temple Golf Club. We think we might just join Temple Golf Club in Temple, Berkshire for the following reasons:
Proximity – It is right across the Thames River from our home in Marlow.
Value – They have a range of membership packages that are scaled to your use. For us it's not just the affordability, but just the practicality since we do a lot of golfing at assorted courses either as guests of friends or investigating other dog-friendly courses.
Dog-Friendliness – At first we were a bit worried about Temple being in the "Lead Required" group of dog-friendly clubs as our dogs do enjoy an off-lead romp, but Rusty and Grace fared very well on our outing there and were quite happy to just be along with us even if tethered throughout.
One thing that has sold us was the pro in the pro-shop who really exuded dog-friendliness. He himself has a dog and he noted that several of the board members for the club golf with their dogs too. Some clubs do allow dogs, but you get the sense that it is a rarely exploited courtesy and the members aren't really that accustomed to canine companions on the fairways. But the pro noted that golfers with dogs were quite regular at Temple (we didn't see any during our round, but the weather was a bit questionable and there weren't many golfers out full stop).
Walk:  The course is a modest length (5700 yards) but does have quite a bit of hilliness which will give your walk a bit of effort.
Water:  There are 3 water fountains along the course including one equipped with a dog bowl on the 17th hole (see below).
For our post-pins provender took us back across the river to our home town of Marlow and the popular Prince of Wales pub. It has a very fine Thai restaurant, the Thai Princess, attached to it. Dogs aren't allowed in the restaurant, but they are very welcome in the main bar area which has ample and comfortable seating with tables and the restaurant is happy to serve you there. The "POW" also has a special "Gin Bar" with a wide selection of premium gins if you are looking for the special G&T to celebrate (or console) your round.