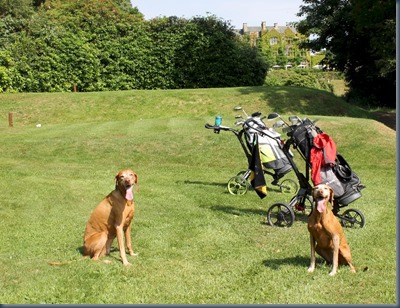 Pennyhill Park is the trustfarian of golf courses – a pint-sized progeny of rich, elegant parents rebelling with a dishevelled coif which can't hide the natural, inherited good looks underneath.
Pennyhill Park is a gem of a hotel and spa. We have visited there a number of times. The facilities are top flight, but they actually have pretty affordable pricing. Especially, since they regularly run promotions which offer even better value. The food in the restaurants is delicious gourmet quality. And the spa features these heated gel beds that we have never seen anywhere else. Talk about turbo-charged relaxation. A while back, Lori settled into this "nap room" for a kindergarten-like decadently midday snooze, and what a sleep. Face-creasing, leg-twitching, drool on the pillow lack of consciousness.
The golf course is not quite up to these 5-star standards. Sort of the renegade black sheep of the family. The setting is just as charming as the rest of the property, but the course is simply not maintained rigorously. The fairways are a bit grown out (so don't count on any bonus forward rolling from your drives), and the greens are downright shaggy. The green is more the length of a fringe. Even the bunkers are more grass than sand.
If Pennyhill Park were closer and the green maintained a bit better, I think we would highly consider a membership at Pennyhill. Not just for the dog golfing, but for the whole collection of facilities and luxury amenities. The range on offer is just one of the reasons to look at Pennyhill for a round of dog golfing…
Apprehensive Novice Dog Golfers – If you are new to dog golfing and are worried about how your pups will fare on the fairway, then Pennyhill is a great maiden outing. Especially, if you prefer to try the off-lead experience. It has an extremely casual vibe (they don't even have the typical dress codes of golf clubs so you can wear what you like). People playing the course will be out for a bit of relaxation and fun so a stray bark from your canine companion won't be putting them off any tournament quality play.
Neglected Golf Widow(er) – While your other-half might forgive you a bit for taking hours out of the day indulging your passion because you are also taking care of walking Fido, they still might feel a bit neglected from losing out on such prime time hours. If so, invite them along for a treatment and then meet up after your round and their spa for a charming lunch on the veranda.
· Risk Aversion – The round cost is modest and I get the sense that if you are staying at the hotel or buying other services at the hotel, you can possibly get a discount (like I said, Pennyhill does a number of promotions so it is worth asking).
Complete Package – As we sat on the garden deck sipping our elegant cocktails (finer than any we would find at a local doggie pub), we thought of a fantasy get-away: Arrive in evening, have a lovely dinner outside (with the dogs at our feet), spend the night in luxury (for all 4 of us as Pennyhill Park's hotel is also dog friendly), wake up to an al fresco breakfast, hit 9 holes, have a garden lunch, and finish putting the pups in the room while we have a spa treatment (arrange for late check out). Very few places in the UK can provide such a dog-friendly, luxury weekend.
Engish Rugby Fan – Pennyhill Park has a long standing partnership with England Rugby. Over the years when I have visited there, I have often bumped into renowned ruggers (like Will Carling) roaming the grounds. Recently, England Rugby built a training facility on the grounds so even more props and backs will be running around the property
Despite being only 9 holes, the course is considerably more than your executive pitch-and-putt. The average length is over 200 yards. And the holes ain't easy. In addition to the ball-halting hirsute landscape, many of the holes (especially the deceptively close Par 3s) are placed at the end of unforgivingly claustrophobic couloirs of towering trees.
So plenty of opportunity for ball hunting by the hounds. In fact, Grace displayed a bit of a milestone for her ball-in-the-rough-finding skills. Lori hit a ball into some long grass so we walked Grace to the edge and said "find the ball, Grace". We could see a bit of white poking under a leaf and Grace walked right up to it a sniffed it. But she left it there! She now knows that she gets treats if she finds a ball and if very enthusiastic when we play the find-the-ball game. Thinking she had had a heat-induced concentration gap, we went up to the ball and pointed at it directly. She sniffed again and left it. Then we noticed that it wasn't actually Lori's ball. A few seconds later, Grace was pointing at something a few feet away quite eagerly. THAT was Lori's ball. Good girl!
Walk: Modest length (especially if you just play the 9 holes once) with several hilly bits.
Water: Small pond by the 7th hole green. Not to mention the water dish offered and served on a silver plater by our fine waiter at the outdoor restaurant (See photo below).