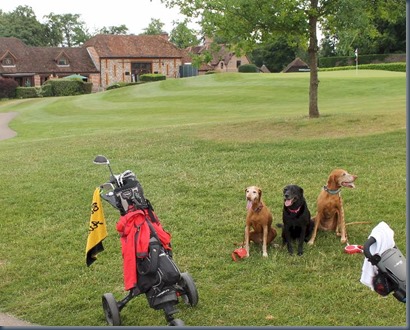 This is where it all began. Our first golf lesson. Our first golf game. Our first round of dog golf. Our first companion dog golfing. Harleyford Golf Club.
Harleyford is our "local". The only golf course in our home town of Marlow. Many of our friends play there. And it was the logical place to start when Lori decided that, with all the invitations to golf days back in my corporate life, I should know how to make my way around a course (so she bought me a set of golf lessons there). I did indeed enjoy the game and thought Lori would, too. So the following Christmas, I bought her the same set of lessons at Harleyford, as well. We had played there a couple of times as guests of friends, but it wasn't until we joined black lab, Bella, for a round that our eyes opened to the possibilities of dog golf.
Bella is, in many ways, the perfect golfing dog. Quiet and calm, she ambles from hole to hole with Jane and Stewart plopping, herself down on the side of the greens or fairways while they take their shots. She even impressed us with her in-the-ruff ball sniffing skills (which sparked our imagination…more to come).
So once DogGolf.info got set up, it was just a matter of (short) time before we got Rusty and Grace out onto this elegant course. The reasonably wide fairways are framed with relatively long grass. So plenty of opportunity for Grace to practice her ball sniffing skills. Stewart was impressed with her going 4 for 4 in finding balls hit deep in the rough. They did have their patience tested (as did we) having to sit off to the side while Lori and I wrestled with the sloping, undulating greens, taking extra time trying to line up the tricky reads and far too many 3 putts.
Harleyford was our first and definitely won't be our last time there.
Walk: The course is perched atop the Thames-side Chiltern Hills so you get some significant inclines to traipse at various points. The literal "upside" is that there are some pretty spectacular vistas to enjoy overlooking the Thames Valley.
Water: No water hazards and being on a hill, not a lot of standing water. The 9th hole has a rest building with toilets and vending machines, so you can get water for the dogs there.