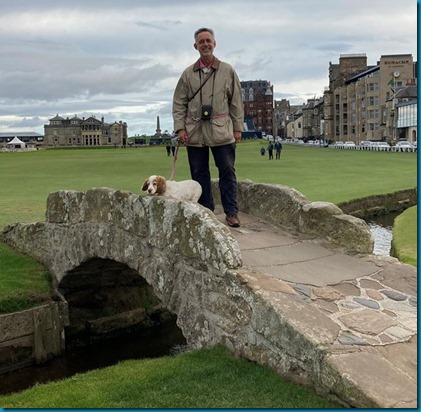 A first for Dog Golf today with a guest review of the Alfred Dunhill Links Championship by Fiona and David (spectating) accompanied by their golf-friendly spaniel, Chloe. The championships took place on several courses around St. Andrews where dogs are often welcome not just on the course, but by covenant, around the course by non-players.
Chloe's report was distinctive in several ways. First, of all, it was the first review of a dog-friendly event. Walking the course as a psectator rather than a player. Second, it added a new dog-friendly course to the Dog Golf database – Carnoustie. But also , the Carnoustie course introduced a new dog protocol I had not seen as a rule. Carnoustie allows dogs on the course with players as long as another person, not playing, is attending to the dog.
Chloe (rescue Working Cocker Spaniel) took her crew to the East coast of Scotland in the motorhome in September 2022, because dogs and their people can all be spectators for free at this enjoyable Pro-Am competition www.alfreddunhilllinks.com It's played in very good humour over St Andrews, Carnoustie and Kingsbarns, with the final day (ticketed) at St Andrews. It was to be Chloe's final motorhome trip.
Starting on Sunday 25 September, we all walked round holes 1-2-17-18 at the Old Course at St Andrews, because it's usually free for dogs attached to members of the public to walk there on Sundays. It was in the final stages of preparation for the Championship. Chloe would have preferred to get into the Swilken Burn, but she joined the queue to pose on the Bridge and carefully kept off the manicured tees and greens.
On Tuesday, we were all allowed to walk around the course at Kingsbarns on the practice day and were made most welcome. There was water for Chloe (paddling and drinking) at the Cambo Burn, which splits the course in two, and there were also plenty of drinking fountains around the course. Chloe enjoyed being cuddled by some charming greenkeepers and even by a caddie! She thought the sandy beach was tempting, but as her lead was on, she dragged us through the lumpy bumpy rough instead, following an interesting group. We found it hard going, but a Cocker's 4-paw drive made light work of the terrain and there were some exciting smells to investigate. The day finished at the Carnoustie caravan site, where the neighbouring wood had squirrels to chase.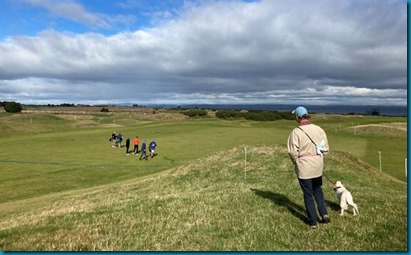 Thursday 29th was the first day of the Championship, with players at all 3 courses. We all walked to the Carnoustie course (no ticket barriers) and stood by the 1st Tee to hear the teams introduced – though she wasn't interested in the cheery banter between Rory McIlroy and his dad. She was a wee star: she lay down and slept when the walking stopped, she "made my day" for a young American woman, she cadged food (like any Cocker would), she was nice to other dogs, she kept out of the Barry Burn and – best of all – she made so many strangers smile. Those memories are a lovely lasting legacy for us. The course is well set up for responsible dog walkers too, if you're staying locally, with good paths, plenty of bins (but water only at the food & drink outlets) and an adjacent beach.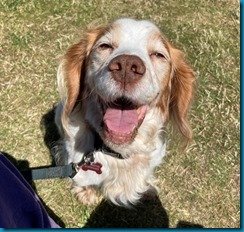 We didn't stay for the remaining competition days (as we had in 2021), but plans are afoot (or a-paw?) to take our new young rescue over for the next Championship in October 2023. Do say hello if you see a wee ginger Cocker Spaniel called Poppy.