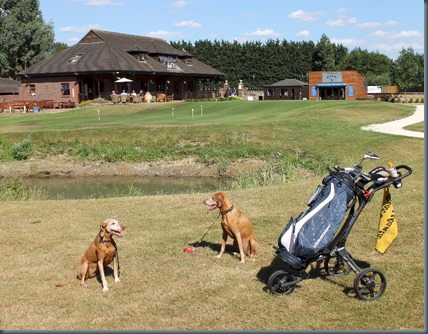 Thorney Park might just be our favourite dog-friendly golf course since Temple. And Thorney Park bests it by (a) allowing dogs under control (lead not mandatory), and (b) having a very service-oriented clubhouse (especially serving food to hungry golfers).
Welcome – One of the warmest welcomes we have received at golf course ever not just for the dogs. The gentleman in the pro shop asked if we had played there before and because we hadn't, he gave us a comprehensive course guide (most shops charge for those). Throughout the day, everyone we encountered were enchanted by the dog and Rusty and Grace lapped up the attention. When we stopped at the clubhouse for a drink after the 9th hole, the manager Jerry came out and had a delightful chat with us.
Wildlife – One of the ponds had a gaggle of Canadian geese swimming in it (including a family of newborn goslings), but well beyond the curious noses of Rusty and Grace at the water's edge.
Water – Water, water everywhere. There are 7 water hazards on the front 9 touching every one of its holes. Aesthetically picturesque. Providing a drink for the dogs, quite handy. The back 9 is a bit drier with just one long stream paralleling the 11th, but then also a quite dramatic water feature on the 17th. There you have drive over the stream (that continues to the 11th) and avoid going off the back to a big pool with a fountain. Well, it's not just the ball you want to avoid going in the water. We learned a big lesson about dogs and vinyl lined ponds. Many ponds are lined with vinyl to keep water from leaching away. Grace and Rusty ambled over to the inviting pond for a sip of water and both slid right in on the vinyl surface. Not only that, they couldn't get out! WARNING: Dogs going into vinyl coated ponds could get trapped. We saw their difficulty immediately and yanked them out from the bank, but they were a little startled by the situation. A bit more water than they bargained for.
Walk – The many water features, punctuated by several footbridges, add to a very attractive scenery for the course. The vistas beyond the course do have a few more urban sights like a crane here and a metal structure there. And a major power line dissects the course crossing a couple holes (which just gave me a new/added excuse for my slice…magnetic field interference). But the most welcome aspect of the landscape were the shade trees. Some courses can be very wooded with lots of shade, but then you are threading a needle on your approach shots. Other courses offer wide open and very wayward shot forgiving fairways, but then you are exposed to the hot sun (or drizzle even). Thorney Park was a perfect balance of open lies with always (and I do mean always) a shade tree next to the hole where the dogs can sit down while you do your chipping and putting.
Wind Down – Our first ever clubhouse wind down for dinner. Many clubhouses serve food, but many, like the pubs on Sunday, close the kitchen relatively early. In the summer months, we like to hit the courses late in the day when there are few golfers (which is easier for golfing with the dogs) and it is a bit cooler. As it happens, when we decided to golf Thorney Park, we turned to our trusty DoggiePubs website and could not find a dog friendly pub with a seating after 8:00 pm. We went through a dozen pubs in the area and all were stopping earlier in the day. May pubs lay it on for a big rush for Sunday carveries and lunches and so finish up relatively early. But Jerry keeps the clubhouse open to dark which can be past 10:00 at night in the summer. He was happy to serve us up a late meal which was as tasty as it was appreciated. He had the butterflied Cajun chicken with chunky chips and a very satisfying side salad. All while enjoying the cooling summer's evening on the terrace looking over the course.