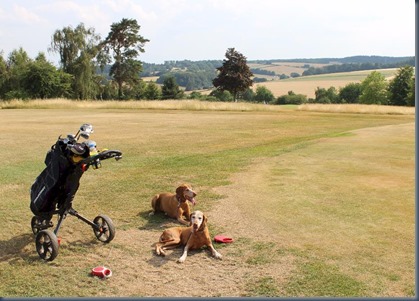 Welcome – More like Harewood Ups and Downs. Harewood Downs first welcomes you with a stunning vista of the surrounding Chiltern countryside as the landscape plummets in front of the clubhouse exposing an expansive dell. And your first hole will present a similarly inviting descent as the fairway drops down a steep hill so a little tap down the middle will gain a hundred of more yards of just rolling momentum virtually right to the green. Possibly the most achievable birdie hole I've played in ages.
Walk – But be careful…as the old saying sort of goes, 'what goes down, must come up again!' The entire course is a rollercoaster of thrilling downhill shots that will give you some of the longest drives of your career (once the ball finally stops rolling), followed by mountain climbing expeditions to re-conquer the course summits. Most of the downhill fairways are blind so Grace's ball sniffing skills came in especially useful not for finding the ball in the rough, but just finding out where in on the fairway the shot ended up (often dozens of yards more forward due to inertia). Thank goodness we had carts as lugging a bag around would have been downright Sherpa like.
Wildlife – Just the normal golf course wildlife – squirrels, rabbits, llamas. Llamas?? Yes, there is a pen of domestic llamas at the 2nd hole. They are safely fenced in and seemed as curious about us as the dogs did about them (you might wanting to stay spitting distance away and I do mean that literally).
Water – Not real water hazards (no ground flat enough to for water to settle on), but water fountains at the 4th and 10th holes! Great for dog owners getting a sip as well as filling dog water bowls.
Wind Down – Despite our challenges with DoggiePubs.org last round, we turned to our trusty resource again and it came up trumps with the superb recommendation of The Swan in Amersham. They have an expansive seating area by the bar with plenty of room to lay down the dogs' blankie's for a post-round nap while we eat (some pubs are so small and cramped we struggle to find a place to put the dogs that is not in the way). The food is gourmet standard and diverse (they have an entire vegan menu). After an evening of ups and downs at Harewood Downs, we definitely finished on an "up" at the Swan.