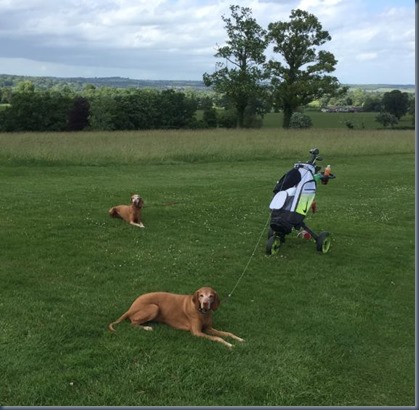 Allow me to introduce Rusty and Grace. Our canine partners in doggolf.info and pretty much its inspiration.
Rusty and Grace are Hungarian Vizslas. The breed is known for being very affectionate which is how they first stole our hearts. Our Vizslas will turn away from food to get affection. They are also known for enjoying and needing LOTS of exercise. Even more than their fellow Hunt-Point-Retrieve (HPR) breeds. If you ever watch Cesar Milan's "Dog Whisperer" TV show and there is a Vizsla involved, before he has walked through the door, he anticipates the root problem will be lack of sufficient exercise. The owners often think they are doing fine with an amble around the block on lead, but the Vizslas really need to cut loose off lead and fully stretch their legs for at least an hour every day. Cesar has prescribed skateboarding, obstacle courses, biking (we have taken them on 20 mile bike rides and they came back with more energy than we had), and weights in an effort to discharge a bit of their boundless energy. You can see how we thought of them when we were enjoying our 3 hour walks on the golf course. Mind you, we still have to take them for a mini-walk before hitting the links just to take the edge off their energy.
Many people ask if Rusty and Grace are sisters. Actually, they're not even the same breed, officially. Rusty is a straight haired while Grace was born to wire-haired parents (but her hair came out straight). We had Rusty first, but a breeder (knowing we had been looking for a Vizsla puppy) called us the day after we got Rusty and told us about a rescue situation with this other puppy (born four days before Rusty) called Grace. I still remember the portent of destiny in the form of a text message from my wife about Grace, saying, "I'm just going to go look at the puppy…"
Grace is definitely the dominant one. Bigger and more assertive. Always rounding up "the pack" and making sure she moves along (one of the things we have to be attentive to is if we stop to talk to other people or dogs, she gets quite vocal with the whining that we should be moving on now…in general it's fine, but on the golf course, we don't want her laments to distract other golfers). Rusty is less biddable, but despite running faster and farther than Grace, she is also content with being on lead. Grace loves to chase sticks and balls, but Rusty is happy to chase Grace.
With Grace's leadership, biddability and ball skills, it made sense to make her the front-dog for Dog Golf. If we ever succeed in devising a golf-ball-finding competition, she is our best hope for a competitive entry (we are now working on converting her highly honed stick and tennis ball skills into Top Flight ones).