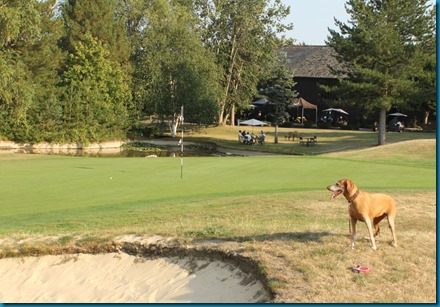 Welcome – While we didn't come across any canine caddies on the Essendon course, plenty of dogs at the clubhouse terrace made Grace feel right at home.
Walk – The clubhouse wasn't the only inviting feature to this distinctive club. One of the overall flattest courses that we have played for ages made the walk, especially on the hottest day of the year hitting 37 degrees, more leisurely. Unlike every other round we've played since lockdown was relaxed, the New Course we played was not very crowded at all making it easier to take out time (with 2 championship courses and a pitch-and-putt, the club would seem to have loads of capacity for everyone). Even the playing of golf itself was made easier by the fairway layouts. They bulged precipitously in the middle making them extremely forgiving to slices and hooks. The copious water hazards generally flanked the holes or hugged the tees making them less intimidating.
Water – More "water, water everywhere", but not so much to drink. Nearly as many water features, 14, as holes on the course. Some were dry because of the mid-August season. Those that weren't were quite inaccessible for a drink because they we constructed with vinyl liners at a steep rake making them dangerous to access (the course has signs on all of them warning of deep water and prohibiting golfers from entering to retrieve balls. Fortunately, given the heat pounding down, the course swings back to the clubhouse on the 9th hole where we tanked up on lager and G&T as well as refilling our water bottles.
Wildlife – The land o' lakes certainly attracted its share of conventional water fowl, but Essendon featured a quite broad menagerie along its lacustrine links. We came upon a family of rabbits munching happily next to the 7th green. But most uncommonly were two different muntjacs who nonchalantly ambled in front of us during our round. One on the 1st and one on the 18th hole (see picture at bottom). I guess I shouldn't be too surprised since their 9 hole course is named the "Muntjac Pitch & Putt".
Wind Down – We had a bit of déjà vu from our Bramley hole 19 stop when we looked at the Cowper Arms menu which was identical to the one we had recently ordered from at The Seahorse. It turns out that they are both part of the Premium Country Pubs restaurant group. Typically, I am skeptical of food in chain pubs, but it looks like this one is aiming for a cut above Harvester and Wetherspoons. We had (another) tasty collection of starters (including the Sticky Chipotle Chicken which Lori quite fancies). And we got our "Eat Out to Help Out" discount (20% up to £20 on food ordered on Mondays, Tuesdays and Wednesdays). We settled into their spacious and comfy beer garden as the evening air started to cool just enough to be comfortable.