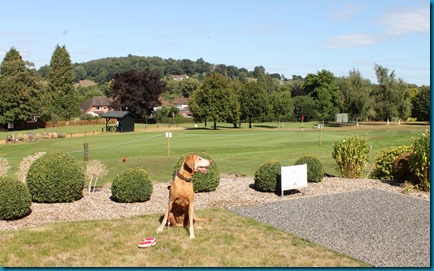 Welcome –Our welcome started with our "wind up" at the club house. Arriving considerably early for our appointed tee time in the toasty weather we decided to start our round with a refreshing drink at Bramley GC terrace with a lovely view of several fairways below. Several members took fond interest in Grace that she would have appreciated more had she not been so impatient to get walking.
Walk – I never quite appreciated that Surrey was particularly mountainous until our Bramley round. The entire course seems carved into the side of a cliff. A multidimensional maze that makes you feel like you were in the heart of St. Clements with all of the call-up bells being rung all around (by hitting with irons, of course, due to COVID19 protocol). But finding hole was nothing compared to finding some of the tees themselves. Yellow and reds were often far apart from each other (and not in line with the hole). On the 4th hole, the yellow tee is about 100 yards to the right of the red tees and a few dozen metres below them in elevation. Lots of comment between Lori and I saying, "There's my tee, so where's yours?"
Water – The course has water fountains at 6th and 9th hole (as well as a toilet at the 9th), but the fountains were all decommissioned due to COVID19 protocols. In the middle of the course – holes 7 through 13 – it seems like nothing but water hazards. I was relieved that most were flanking rather than impeding, and Grace was relieved for their easy access to cool her paws on the hot day and grab a drink.
Wildlife – The profusion of water features attracted the usual collection of water fowl (Canadian Geese, Egyptian Geese, Mallards) including 2 "Swans" set in the middle of the pond by the 16th and 18th that were Mannequin Challenge world champions.
Wind Down – Down the road was the lovely doggie pub, The Seahorse. A spacious garden which was perfect for the sultry summer's eve. Unprompted, the host brought Grace a bowl of water which she welcomed as heartily a Lori and I did our distinctive cocktails (Pineapple Daiquiri for me and a Blood-Red Orange and Grapefruit Gintonica for Lori). With the crepuscular calefaction and the gimlet gratification felt just a touch transported to a tropical resort. All of the fare is a cut above typical pub grub (though maybe just short of gastro-pub quality), but it was all just bonus to the delicious drinks were savoring into the evening.