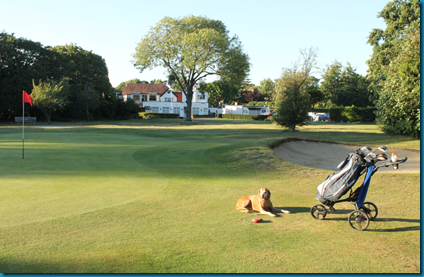 Welcome – Another very four-legged-friendly course with equally friendly two-legged members at Banstead Downs. This day, the crowded course brought member Paul, out on a singleton round, into making our two ball into a friendly three ball. And we came upon one of the most generous 4-balls ever who let about a half-dozen groups behind them through. The parkland course was packed with the dog walkers so Grace was not out of place at all.
Walk – The scruffy parkland fairways billow out expansively endlessly dimpled with mounds and depressions. You think you have hit squarely into the fairway, but as you march out to your second shot you get a little worried as you can't see your ball anywhere. Eventually you stumble upon it settled in one of the many bowls across the course.
Water – Hole 7 did have a water fountain, but it was all wrapped up due to COVID19 precautions. No significant water features and the course doesn't make its way back to the clubhouse until the 15th hole., so fill your canteens to the brim before you head out on a toasty day.
Wildlife – The wildlife including a rogue's gallery of usual suspects – squirrels, pigeons, crows, etc.
Wind Down – Often we bemoan the lack of good signposting on courses pointing to the next tees (especially as we are typically golfing new courses), but this day we were absolutely flummoxed by some of the worst signposting we have ever come across for a pub – The Harrow (aka "The Harrow Cheam"). If you type in "The Harrow" into Google Maps, you get something which is listed at "Sutton, High Street". The map shows a "Cheam" and it shows a "Sutton" down the road. Eventually, we just went into The Harrow in Sutton, Cheam or wherever it was and they told us we had come to the right place. Unfortunately, DoggiePubs.org let us down here saying in its summary "Dogs are very welcome in all but one area which is fine." Actually, it is the opposite…"Dogs are very welcome in none but one area (the garden)." And while the pub is open for food until at 9:00 pm table seating staying open until 11:00 pm, the garden (the only place dogs are allowed) closes at 9:00 (ie. done with your food and out). Despite all the mixed up information, we did have just enough time to squeeze in a drink and some light bites. The food was a cut above standard bar-chain fare while not quite being gastro-pub standard. The best part was that the garden had these individual private hut enclosures which were both heated and had their own individual televisions (so we were able to watch part of the Fulham-Brentford game).