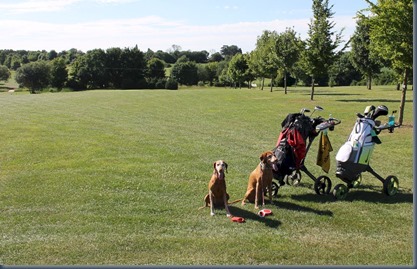 Go east young man's best friend. Having done the vast majority of our golfing in the provinces just west of London, an annual social gathering got us to pack up our bags and head to Essex for the weekend. The event invites the whole family including the dogs so we figured we would take in a couple of rounds of dog golf – one en route there and one en route home.
Manor of Grove is a chance for those puppies to stretch their legs and the golfers to stretch their swings. The fairways are some of the widest I have seen. So unless your slice wouldn't pass a European Union regulation for banana straightness, you have a chance to let loose with some real welly and the approach will be very forgiving to a moderate amount of veering. And just to boost your ego a bit more, the majority of holes run perpendicular to two long ridges. So you are going downhill on your drive. But be warned you will need to go *up* the other side. And naturally, water collects at the bottom of most valleys so most of these holes will have horizontal hazards running in front of you. Some of that water is feeding some very 'healthy' (ie. tall) growth that I swear has mutated tendril hands to grab your ball out of the air. If you will be tempted to go for the monster drive, but if you don't think you can make it across, you could get sucked into the nadir of the abyss where the gravitational pull is strongest.
Welcome:  Everyone was very welcoming of Rusty and Grace though they did seem to be a bit of a novelty on the course to most.  As it turns out, they were a complete novelty because dogs are not actually allowed on the course.  We had previously received an email from the course confirming that they were allowed, but then after our visit, someone was so surprised to see them, that they checked the rules and told us that actually the rules prohibited dogs.  Oh well…an exclusive round of dog golf for Rusty and Grace.
Walk: As described above, the landscape is a bit of a Newton's Cradle. Up and down, up and down. Nothing particularly steep. Just relentless. A variation of the Chumbawamba song ("I get to drive downhill, but then it goes up again…").
Water: Quite a number of streams and water hazards, but in the mid-summer, they were all dried up. The 9th hole finishes across the big parking lot from the pro shop and bar, but it was worth the walk for us to load up on liquids.