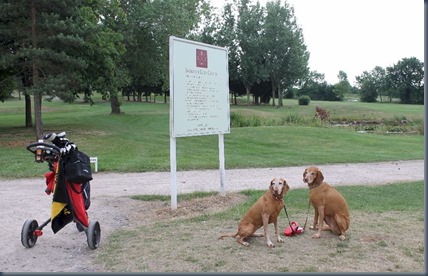 Basildon isn't polished around the edges (for examples, the sand hazards didn't have rakes in them and their edges weren't cleanly groomed), but its fundamentals (eg. green surfaces, fairways, layouts) are superb. Its more relaxed ambience combined with a very dog-friendly demeanor takes any stress out of the apprehension of dog walking even, off-lead.
Welcome:  While there were no fellow dog golfers, we did come upon dog walkers on the fairways a couple of times. When we stopped for a 9th hole drink, the shop/café/bar manager came out with a dog bowl of water for Rusty and Grace without being asked. In fact, dogs are allowed in the small clubhouse and its bar. When we stopped at the end of our round, several best friends were sitting there with their owners.
Water: No spigots on the course and the only water hazard is right next to the pro shop where a few feet away you can get fresh tap water.
Walk: The course topology is sort of giant parabolic humps. It was the total inversion of Manor of Groves. Sort of like its yoga counter pose (instead of down-and-up from one elevated ridge to another, it is up-and-down over a single ridge). If you can get your drive over the top of the looming hill, then you will get a decent bonus distance as it rolls down the other side. It gave Grace an opportunity for some ball-sniffing outside the rough even if they did go straight down the fairway. You are driving over the top of a ridge that once you clear, you have no idea where you have landed.  Lori's most frequent questions of the day was "I wonder where the pin is" (often followed by "Grace, find the ball!"). At least a third of the holes are "blind" in this way.