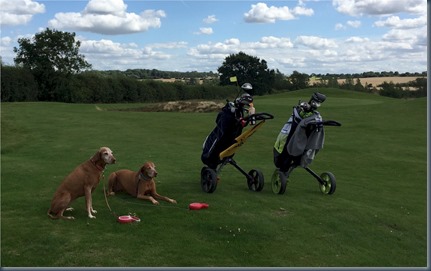 The biggest divide between dog-friendly golf courses is whether leads are required or not. About 2/3rd of the courses that allow dogs do require a lead. The others simply require that they be "under control". Kirtlington Golf Club's policy occupies a curious middle ground where leads are "preferable".
Even though Rusty and Grace are extremely well behaved and very biddable (voice, whistle and hand commands), we still tend to start all our outings on leads (even where they are not required). One good reason for Kirtington's recommendation is the fact that between Holes 1 and 2 lies a field with sheep and goats protected by an electric fence. We know from past experience that Rusty' inquisitive nature would certainly have earned her a zap on the nose if we hadn't had her on the lead there.
Later on in the round, since there weren't many players on the course, we let them off to stretch their legs a bit in the wide open fairways of Kirtlington. Hole 7 comes back to the sheep pen so back Rusty went on the lead.
Welcome:  The course has a very dog friendly demeanor. A number of folks commented that one of the course managers has her own dog who accompanies her to the clubhouse (but not on the course).
Walk: Kirtlington had probably the most best [sic] views we've ever enjoyed on a golf course. And we didn't have to climb arduous hills to get them. Instead, the course sort of sits like a table top at the edge of the Cotswolds with nearly broad vistas overlooking the Oxford Plain on nearly every hole.
Water: A couple of water hazards on the 7th and 12th were maintaining their water levels even in the heat of August (most appear to be lined to keep the water in place).
Wind Down: The doggie pub for the day was The Boat Inn in Thrupp (5 stars on DoggiePubs). They have a spacious enclosed garden as well as good sized bar area where dogs are very welcome. Our dogs got offered a biscuit by the barman before we had even ordered our drinks. A few other dogs joined us during our meal. And a hearty meal it was just perfect for an appetite worked up by 7+ kilometers of walking. The extensive menu filled two sides of an A4 sheet. The nachos with beef chili was superb (though a bit on the hot spicy side, be warned). Most of us had the "Hock and Cock" (ham hock and chicken) pies with chips and gravy, with our friend Ian (in photo below with wife Jenny) opting for the steak (perfectly cooked). And it turned out that Rusty and Grace's food hadn't thawed out thoroughly, but one of the other patrons was a canal boater moored up outside and they took the packets to their boat to zap them in the microwave for us.