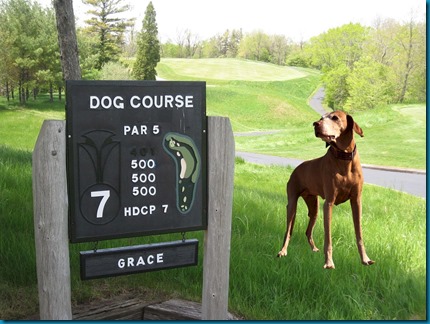 500! Five hundred dog-friendly golf courses identified and added to the Dog Golf UK database (plus Manor of Groves which is no longer dog golfing). Coincidentally, the Roman numeral for 500 is "D" (for dogs).
I've recently noted that most golf courses now have Facebook pages and those pages include "Contact" buttons. I thought I would try reaching a few clubs that never responded to my emails through this route (maybe courses are more attentive to their Facebook messages than their emails). I have proceeded to message about 16 per day (that's the limit of the number of messages that Facebook allows one to send at a go) and have been getting several replies back. Some are confirming that dogs are prohibited, but a good number of new dog-friendly courses have been identified and promptly added to the database.
The whole Facebook exercise has uncovered a number of added curious statistics which I will share when I am finished with the research (I have about 150 courses left to contact), but I thought I would call out the milestone that Dog Golf UK has hit the 500 mark in the number of dog-friendly courses listed.
We've only played 69 of those so lots left to discover. We have played pretty much all of the dog friendly courses within an hour's driving radius of our home in Wycombe except for:
M25 Northeast courses (3) – Close to our daughter's house so we will hit them in conjunction with visits to see her.
West/South London courses (3) – Close to our son's house so we will hit them in conjunction with visits to see him.
Expensive courses (ie. Stoke Poges, Denham, Sunningdale, Swinley Forest) – Just a bit too rich for our already stretched budget on this project.
Furthermore, we've hit a few more far-flung locations in Cornwall, Norwich, Dorset and Hampshire in conjunction with some visits to friends.
And I would walk 500 courses…of course with canine companion caddie.