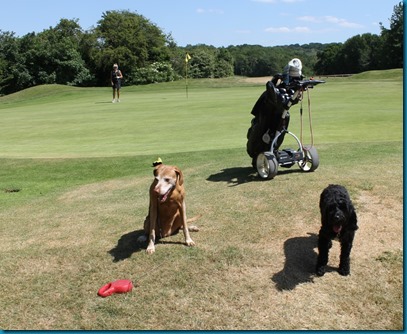 Welcome – Dog golfing is back! The eased UK lock-down restrictions now allow for golfing with a number of provisos to impede virus transmission (eg. parties limited to two-somes, all green flags to be left in place to eliminate touching, golf-carts sanitised after every use, number of people limited in pro-shops, social distancing practiced on course, etc). And Guildford Golf Club was a superbly relaxing way to ease back into dog golfing. A relaxed course with mostly expansive fairways (except for a needle threading Hole 2) and gentle slopes, and a relaxed welcome to canine caddies. It is a parkland course so people are walking their dogs everywhere. In fact, when we set out, we met Lola (photo above) just coming off the course who plays the course regularly. You will also find courtesy doggie bag depositories and water bowls along the course. Sadly, it was our first outing since the lost of Grace's energetic companion, Rusty, but Grace was happy to be out traipsing along side the trolleys.
Walk – The course features a couple of inclines, but mostly undulates gently with a number of striking views of the Surrey countryside in the distance.
Water – The bad news is that the course layout is "out and back" so it never swings back by the clubhouse (to get water) until the very end. The good news is that the course has water fountains with dog bowls!) at a couple places around the course (we saw one at the 12th hole). The bad news is that these weren't operational when we tried them (maybe turned off for fear of spreading COVID19).
Wildlife – Actually, the course had very few critters that we came across. There are no water hazards to lure water fowl. And the course is in a more open area (rather than a wooded area). The profusion of dog-walkers with their dogs passing regularly through the area probably plays a major role in keeping wildlife at bay. So relatively few distractions for Grace through the play.
Wind Down – Dog golfing might be back, but doggie pubs are still pretty much off line. We went through DoggiePubs.org.uk looking for any nearby pubs offering take-away service and they were mostly completely closed with the lockdown. We finally came upon, the Send Inn in Guildford who had arranged a full take-away menu to keep their kitchen going during the lock down, but when we called to order it turned out that there was a nearly 2 hour wait for booking a pickup slot. So our wind down turned out to be sunset cocktail in our backyard…like so many days these past few months.