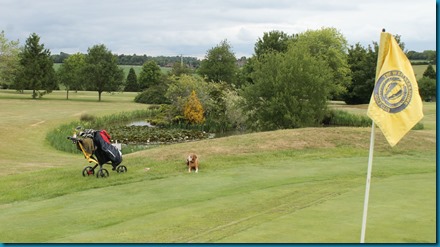 Welcome – Well into the dog golfing season now with extra opportunity to catch up on lost fairway time from their closure as Lori and I are both on furlough (Grace is always on furlough). Having explored the dog-friendly courses near our West Wycombe home, we now have to venture out a bit further (about an hour's drive) to find new courses to check out. Fortunately, the reduced work schedule and long summer days are giving us plenty of time for such forays. Our latest took us to the exquisite course of West Berkshire.
Walk –The course is lengthy at 7+ km (blue tees), but meanders along fairly flat ground with a number of lovely vistas as a backdrop. Manicured expansive fairways surrounded by the most picturesque plantation of trees. Unfortunately, the flanking woods made retrieval of sliced drives harder than in conventional grassy rough. Still, we were still dusting off enough cobwebs from our form that Grace had plenty of opportunity to find stray balls (much to her delight).
Water – The course has a few small and stagnant pools of water around the course. And the clubhouse features a striking water feature, but it the steep sides keep it from being accessible for a few laps of water. But the generous supply of water is at the clubhouse and half-way hut. The course is designed that more holes return to the clubhouse than any course I have played. Conventional layout would have the 9th hole returning to the clubhouse either for a mid-round break or to facilitate playing a half-course. But at West Berkshire, the 2nd, 5th, 8th (as well as obviously the 18th) all arrive at the clubhouse. Also, there is a half-way hut that in normal times would provide a loo, food, and water (but it is closed now due to the coronavirus protocols) that sits at the end of the 4th, 9th, and 16th. So over a third of the holes finish near a place to get some water.
Wildlife – Quite a number of squirrels (the bane of many a dog's focus) darted about teasingly in front of Grace, but she's too much of an old dog to pay them much heed.
Wind Down – The pubs are still on lock-down, but we thought that we would try again to support one of the dog-friendly pubs nearby who were carrying on with carry-out. Scrolling through the DoggiePubs website, it wasn't until we came to The Castle Inn in Cold Ash until we found someone advertising take-away in the area. It was a full 7 miles away from the course, but most of that was on our way home. They served up a tasty burger and some okay cod and chips topped off by a lovely syrup sponge (with lots of custard!). Truly good pub grub and just what we needed after such a long course and an hour drive home. The service was impeccable and they commented that they are truly dog-friendly as dogs typically outnumber humans during normal times.