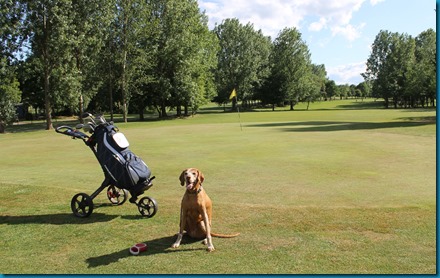 Welcome – We are venturing into the northern part of our very own home county, Buckinghamshire, to try a few of the Milton Keynes area course the welcome dogs. First stop was Windmill Hill golf course. A well-appointed course with well-groomed fairways, and a relaxed ambiance to it. We didn't see any fellow dog golfers, but we did come across a local dog-walker passing through.
Walk – Another long walk with the yellow tees measuring 6,385 yards. Until the mid-1980s, the course was one of the longest in Europe. But, resting on the table of Aylesbury Vale, it is all very level ground making the hike a bit easier. That includes 5 par 5 holes! One thing that Lori appreciated was that on 7 holes the Ladies tees were around 100 yards ahead (the 16th hole was a 117 yard advantage) of the yellow tees which took the sting out of the long fairways for her drive (and yet perversely, there were 3 holes where the Ladies reds were behind the yellows). So I had to be extra careful of my duff shots for fear of elevated risk of "willy rule" penalty!
Water – Water on the course itself is quite unavailable. It has a couple of water features that have been created, but they are not naturally fed and early in the season they were quite dried out. However, for the first time in what seems like ages, the course does return to the clubhouse on the 9th hole (so you can get water there).
Wildlife – Nothing much of interest (to us or Grace) aside from a few pigeons (flying rats) and squirrels (rats with fluffy tails).
Wind Down – Once again we thought we would give a try to supporting a nearby dog-friendly pub with ordering some take-away. However, going through the DoggiePubs list in the area, we extended to a nearly ten mile radius and still couldn't find an establishment advertising take-away food or drink. But, as we were driving to the course we passed a sign advertising The Lowndes Arms pub just a couple miles away that also noted being dog friendly. When we arrived, it was buzzing. It was serving a limited range of drinks (mostly beer and cider) as take-away, but it did have a large beer garden where people were consuming their beverages in a socially distant manner. The food was limited to crisps, but they do a Sunday roast take-away you can book in advance. Despite the limitations, it was encouraging and refreshing to sit down to a post-round pint, or any pub pint, for the first time in months.