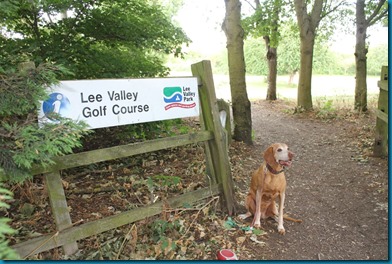 Welcome –Lee Valley golf course's slightly scruffy appearance does make it less fussy and more relaxed so you don't feel self-conscious with Fido in tow. You enter the course through a caravan park which shares a reception with the course. In the window, a prominent sign says "No dogs except guide dogs", but it is referring to dogs staying in the caravan park.
Water – The biggest fresh water feature I have ever seen at a golf course (obviously excluding the ocean at various seaside resorts). The front nine simply takes you in a circular route around a 5 acre lake. Furthermore, the middle nine flanks the eponymous River Lee. Neither bodies of water are readily accessible for your dog to grab a sip (except lake can be accessed from the 7th). The 10th does take you round back to the entrance where you can go to the caravan park for some water (a couple hundred yards walk though).
Wildlife – The play through the front nine is a bit reminiscent of the Hitchcock classic "The Birds". I have never seen so many and so many different birds at a golf course. Especially lots of seabirds like gulls and terns who were collected on the little patch of land in the middle of the lake squawking loudly like some sort of political rally. Swans, ducks, coots, grebes. Also, the adjacent William Griling Reservoir, several times even bigger than the course lake, also drew many waterfowl flying overhead throughout the game.
Walk – The walk is a leisurely stroll on very flat terrain with plenty of visual interest especially in the first half with the lake on your right shoulder.
Wind Down – Lee Valley is situated in quite an urban part of east London amidst industrial parks and roadways. So the pubs nearby are in pretty limited supply regardless of coronavirus restrictions. However, the course is part of the larger Lee Valley Park complex which also includes the ODEAN Luxe Lee Valley and Lee Valley Leisure Centre both of which offer a variety of refreshments. And the surrounding park area provides plenty of places to consume them with your dog by your side at your bench or table. Due to the lockdown, all the establishments were shut for business (however, side note, another recent addition to the facility is a COVID19 mobile testing area in the parking lot).