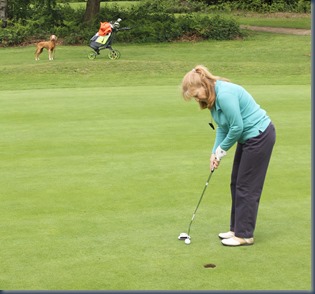 Redhill and Reigate Golf Club was our very first "solo" outing with Rusty and Grace.  And it might be one of the best courses around for trying out doggie golf.
We had been golfing with friends who were accompanied by their well trained Labrador so we were acquainted with the dynamics of a tail-wagger tagging along.  Our two Hungarian Vizslas (Rusty , above, and Grace, in the logo) are very well behaved and reasonably well trained.  But you just never know how they will respond to a new environment.  What is acceptable behavior in the dog park or rambling trails, might not conform as well to the courtesies of the golf course.  In particular, Grace is quite a vocal dog who starts her whines when we hesitate too long on a walk or give attention to other people or, even worse, other dogs.  One of the key conventions of golf is keeping quiet at the appropriate times.
We chose RRGC for a number of reasons…
Proximity – Within an hour's drive from our home.
Price – Lower priced (so if it all went wrong, we could simply pack up and come home without too much of a financial loss).
Personality – More relaxed atmosphere which often seems to go hand-in-hand with value pricing.
The big win was the dogginess of the whole grounds.  The course shares public land.  As a result, the public don't just have access to the area via walking paths, but they are also welcome to walk across the course wherever they like.  The entire 18 holes were just swarming with canines and their accompanying dog walkers.  They were all very courteous and deferential to not interfere with our play, but it made a huge difference in us not feeling out of place.  We did appear to be the only golfers there with dogs.
Welcome:  The reception told me that they preferred if the dogs were kept on the lead, but there doesn't appear to be a hard rule on this matter.  And most of the dog walkers were off lead anyway.
Walk:  The course had only a couple of moderate inclines to manage.  It did require you to cross a fairly busy road a few times.  The Clubhouse does not allow dogs, but it does have a fenced-off outdoor patio for eating where dogs can go if you fancy a post- or mid-game refreshment.
Water:  A few streams provided a sip of water around the course.
Dog amenities – Poo bag containers (hole 1 and 6)