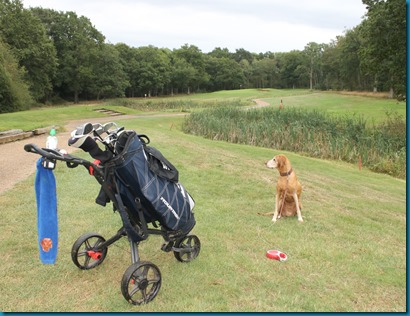 Welcome – One of our recently uncovered dog-friendly places here in the UK is Drift GC. Everyone seemed nonplussed by Grace's presence, and one particularly friendly lady went out of her way to say hello to her which Grace particularly appreciated (and she isn't usually as enthusiastic receiving too much attention from strangers).
Walk – While the walk was nicely level, it still seemed to be a bit more tiring than its fairly conventional 6k distance would imply. Plenty of conventional sand and surf hazards, with the bonus hazard of scattered mounds. These carbuncles of turf reminded me of the many fatty lumps and bumps popping up on Grace's aging body (which were annoying to our approach shots are they sometime are to Grace who fusses with them).
Water – Half dozen sizeable water hazards. Water fountain at the 15th and 9th (shut down for COVID) and the 9th returns to the clubhouse. In fact. the 9th had the water trifecta of a water hazard, a fountain and a halfway hut. The course could go by the nickname the "Ditch" golf club for a long sequence of drainage ditches running along the course. Your slice won't roll far off the fairway before it is gobbled up by one of these (but in wetter times a ready source of a drink for Grace).
Wildlife – SQUIRREL! Never seen so many squirrels on a golf course. Each hole seemed to have its own resident furry-tailed rodent.
Wind Down – We set down at the nearby The Black Swan which is a charming gastropub striving for cut-above fare. The spatch cock chicken and truffle mac and cheese exceeded expectations though the "tempura" broccoli was just fried in conventional batter that was too doughy. A lovely place with lovely food.