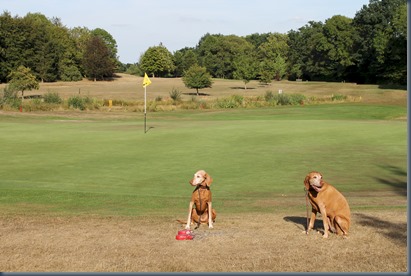 Welcome – Chobham gave us a delightfully warm welcome and noted that quite a number of members bring their dogs around for rounds. That is more than we can say for the first course we tried to golf at that day – Pine Ridge. We arrived and double checked on the dog protocol and they responded, "No, we don't allow dogs". Now actually, I had Pine Ridge's dog (friendly) protocol down verbatim in more detail than just about any other club from when I called them some months ago – "We do allow dogs to walk around the course with the players however your dog would need to be on a lead. If your dog barks excessively we would ask you to take your dog off the course. No water on course." That's not something you make up or accidentally jot down. Fortunately, we were able to pull up DogGolf.info on the phone and find Chobham just down the road. But the incident did raise a few caveats.
1. DogGolf.info isn't perfect – I try to research and update all the information, but mistakes can get made (not least of which by the club itself, in fact the golf pro implied that a previous employee might have been misinformed).
2. Always double check – Protocols and be fluid and change over time. Or the club might have special rules on the for the day due to and event or some other reason (we had tried to call Pine Ridge several times, but their phone system was on the fritz so part of our problem was getting hit by the double whammy of faulty info combined with inability to double check as we usually do).
Walk – Chobham GC is a remarkably picturesque course with dimension and variety in the landscape without alpine peaks to climb, and enough trees for shade without threading the needle through leafy couloirs.
Water – Water, water everywhere…and plenty of drops to drink. In fact, perhaps the most watery hole in the entire UK (at least the most of the many dog-friendly courses we have played) is at the 6th hole. There you will find an accessible lake (a nice graduated bank the dogs and walk down to get a drink), a toilet building (with a sink for refilling water bottles) AND a water fountain outside. A regular Minnesota of golf courses with its land 'o lakes – 5 to be exact. Not pokey little water hazards, but proper, expansive ponds. Despite the scorching UK heat wave, these bodies of water were still ample and the dogs had a great opportunity to refresh along the course.
Wildlife – Like the oases in the desert and the water holes on the savannah, where there's water, there's wildlife. And Chobham was more a Mutual of Omaha's Wild Kingdom than just about any course we have seen. The standard line-up of woodland creatures, ie. squirrels, rabbits, but also a teeming range of water fowl, ie. big gaggle of geese marching across the 4th fairway, moor hens, blue heron. It was a good thing that the course had a lead required policy because I think even Rusty and Grace's biddability would have been challenged.
Wind Down – Too late for dinner service, but too parched to carry on home without a stop at our own water hole so down the road to a Doggie Pub recommendation, The Crown. A fenced in area at the front, a beer garden out back, and a welcome to dogs in the pub. A malamute puppy (and a big as Grace and Rusty combined) who is a regular greeted the girls with enthusiasm, but the girls were a bit less impressed.