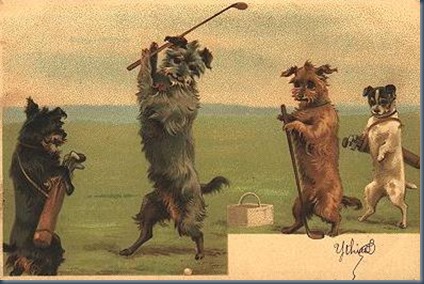 (especially as dogs should be kept off the green)
A bit of a hiatus for some overseas holidays (where the dogs can't join us and there is actually not hardly any golf). But I thought I would send a postcard (or postcards) nonetheless to our readers. Some vintage cards depicting dog golf in various guises.
Dog golfing originates from the earliest days of the sport when it was a gentlemen's pursuit. Well-heeled gentry would hunt in the winter and golf in the summer. Or in other words, shoot birds in the winter and shoot birdies in the summer. So it was quite common for a golfer to take his trusty hounds, who had served him so well in shooting season, when he had a sunny outing on the course. I recently saw some fun vintage golfing postcards displayed at St. Enodoc and wondered if any such prints had been done which included dogs. The ones I uncovered are shared here.