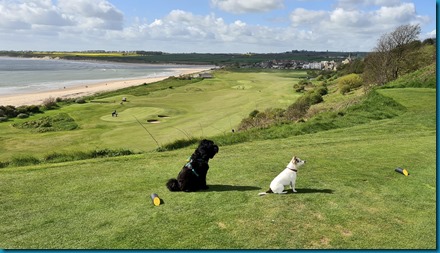 Bertie (and Steve) provides another first-hand report on a Northumberland course while Grace relaxes in the backyard for a well-deserved break and a bit of recuperation:
Alnmouth Village Golf Club is the reason why we took up golf. When Bertie was a puppy we stayed in Alnmouth and Bertie loved the beach so much we have been back a few times. There is a magnificent nine hole course between the village and the beach, it really is stunning. We always said it would be great to play the course hence we started golf lessons and this was the first time we would actually play the course instead of just walking the dog on it!
We played twice, once just us and then with another couple who came to stay for a couple of days, they have a Jack Russell. Alnmouth must be the most dog friendly place in Britain, dogs are welcome everywhere.
The clubhouse has lots of picnic tables and dogs are welcome inside as well. They do the whole range from bacon butties to Sunday lunch. It's incredibly friendly and £15 for nine holes. Trolleys, just help yourself and put them back afterwards.
The course is flat apart from one hole, the sixth. You drive up onto the plateau onto another fairway with a short iron shot onto the most elevated green, it's a short sharp incline and its a blind shot requiring you to ring the bell for the next group to play.
The next tee gives you amazing panoramic views of the course and Northumbrian shore. It's a quite satisfying tee shot as you see your ball fall downwards onto the fairway below. It's a typical links course and if your ball disappears into the rough don't bother looking for it!!!
Members are so used to dogs, as we played and crossed other parties they would wave ask if we were on holiday and pass on tips for the next hole. On one occasion we were just walking Bertie on the path alongside the course watching others play. Bertie spotted a ball on the fairway and ran to retrieve it with two mortified owners running after him. The four ball just fell about laughing while the owner of the ball just complained that Bertie could have dropped it nearer the hole.
Alnmouth Village Golf Club is England's oldest nine hole course and remains an enduring course to play you are ever anywhere near.