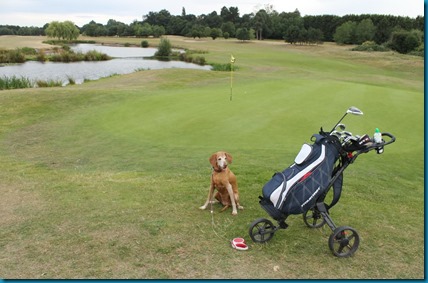 Welcome – Everyone at Sutton Green was quite nonplussed by Grace's presence and at the end one of the club managers came by and fussed over Grace much to her delight.
Walk – Another leisurely flat course.
Water – Water, water everywhere and plenty of drops to drink. Sutton Green is a regular water world. With seven water hazards including one flanking the 9th and 10th holes large enough to have its own gravitation field, and four others scattered across the course. In fact, 10 of the 18 holes abutted a water feature. On top of that, the 6th hole had a water fountain (though it was not working, maybe dismantled for COVID19 precautions). And the 9th hole returns back to the clubhouse for refills or even a more relaxed libation at their outdoor bar area looking over the course. And if all that wasn't enough, we got a passing rain squall which when over produced a lovely rainbow that last for several holes (see pictures below)
Wildlife – The water wonderland is an obvious lure for waterfowl of all sorts especially Canadian Geese, Egyptian Geese and mallard ducks. And while dogs are obviously expected to pick up their mess, no such rule exists for the geese and others so watch your step.
Wind Down – We went down the road to the closest Doggie Pub taking bookings ending up at the Bird in Hand (see photo at bottom). It was unrated on the Doggie Pub site, but after visiting we gave it its first rating of top marks – 5 stars! They were extremely welcoming of Grace fussing over her as well, putting water bowls out, etc. The food was delicious gastropub grub. And the service was particularly attentive (including initiating moving us to another table when a neighboring big table started to get quite loud and boisterous).