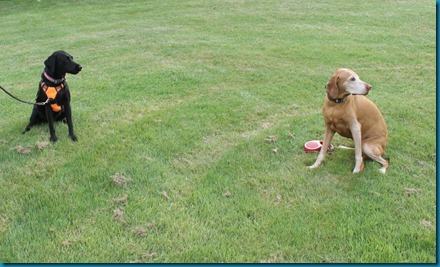 Welcome – Extending the serendipity of meeting Percy and Winnie at Shrivenham Park earlier this week, one of the courses they had played was Marlborough which just happened to be the next on our itinerary. And lo and behold, after many rounds of not meeting any fellow dog golfers, we came upon another regular on the fairways, Holly (see above). Meeting her was simply the icing on the cake of a very warm welcome to Grace by the various members we met (the course was quite crowded in ongoing the post-lockdown golf craze) and plenty of other dogs being walked on the periphery (the course sits on common land abutting the Marlborough Common itself).
Walk – One of the most picturesque courses we have seen (hence I was a bit more snap happy than usual). It starts with a lovely clubhouse garden (see photo directly below). Mind you the rather confusing COVID signs to the pro shop started out round with a rather extensive hike before we had even started out on the course. The course itself felt like a traversing the North Sea. The front 9 is quite stormy with towering rollers and being tossed side to side with fairways set at various angles. The metaphorical sea calms down in the back nine with more gentle undulations on a generally flat expanse. The entire course is set on top of an elevated plateau which provides dramatic views of the Wiltshire countryside in every direction.
Water – Not much water on the course itself (no water hazards), but not only does the 9th come back around to the clubhouse, but the 13th and 16th come back fairly close to the clubhouse if you desperately needed a refill or drink.
Wildlife – Murder! For some reason, all green areas around the clubhouse were attracting a more murder than Jack the Ripper with crows everywhere.
Wind Down – Just down the road, we found The Bell at West Overton who we not only very doggie friendly with water bowls on offer, but also had a pretty good system for the managing the coronavirus safety. They had the obligatory PPE, screens and one-way system, but they also added a capability that you would send your order to them on WhatsApp. Not only did it reduce server circulation in the establishment, but it also facilitated a logging for them of your contact details for the purposes of tracing and tracking. The food was delicious gastro-fare (I especially enjoyed the Venison Wellington).