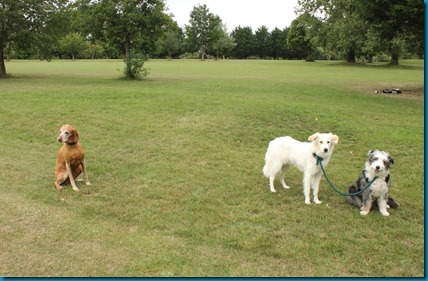 Welcome – Playing Shrivenham Park is like dating a skateboarder…a bit of rough with a relaxed demeanor and more dangerous than meets the eye. Grace was thrilled at the abundant rough (as well as at Dad not having his best day off the tee on the front 9) which meant plenty of treats for finding the ball in the tall grass. The easy-going vibe was great for Grace as we are often apprehensive as to how receptive fellow golfers will be to our canine caddy regardless of the club policy. But the course was exceptionally dog-friendly.
Dog walkers traversed the parkland course throughout the round with plenty of new butts to sniff passing by. In an extraordinary bit of serendipity, we happened upon Winnie and Percy (see photo above) as well as their golfing human, Adam Ruck. As it happens, Adam is the author of the seminal dog golfing article "Courses That Welcome Dogs" in the Telegraph. This piece was one of the first I came upon when I was researching the subject to create the website. Today if you Google "dog golf", is article is the 6th highest item to appear.
Walk – Shrivenham Park winds around like that drunken skater boy with paths crossing over fairways and holes even crossing over other holes. It's a bit of a meandering pretzel layout, but at least it has very clear signs pointing you to the next tee. One lovely aspect of the grounds is the sheer diversity of types of tree. It was like a showcase of British arboreal diversity.
Water – Like the paths on the course, streams of water also weave their way through the grounds with several being quite fresh (and satisfying for Grace to rehydrate from).
Wildlife – Mostly a range of squirrels keeping a watchful eye on all the dogs walking by.
Wind Down – We were able to resume regular wind-down service at a nearby doggie pie, the Carpenters Arms, who not only had quite comprehensive COVID protocols for patrons, but also had a different entrance for dog-toting patrons (see photo below). The dog-friendliness of the pub hits you even before entering with prominent signs welcoming doggie drinking buddies. And the signs of welcome just continued inside with a special doggie treats menu (see below) which Grace appreciated hugely. The human menu had a fairly typical pub range of offerings, but also had several pizzas on offer which we extremely tasty (and Grace loves the "pizza bones", aka crust).