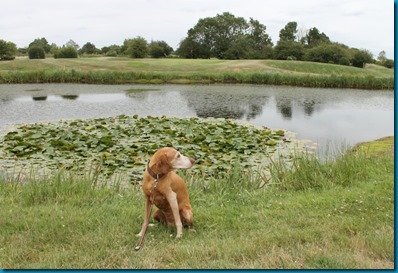 Welcome – Mill Green not only provided a warm welcome to Grace, but also was simply one of the most overall welcoming courses that we have played. Despite the quite crowded course (post-lockdown desperation for open spaces is still in full swing), everyone was in good spirits and exchanging friendly greetings with lots of gushing over Grace and her green-side decorum. The course is built on parkland with nearby dog walking trails so dog walkers are a common sight.
Walk – Another course set in the level land of the Home Countries making for a very walkable round.
Water – There was so much water and sand everywhere that it felt like a day at the seaside. The COVD19 bunker rules made the profusion of traps more manageable, but 7 water hazards (some near lake-sized) put the pressure on fairway play. A couple shots went in the drink and we could see them just beyond club length reach. Grace could see them to and wanted to fetch them for us, but couldn't figure out how to open her mouth underwater. Grace loved the water hazards as most had low banks making for an easy sip and even the occasion feet cooling.
Wildlife – There might not have been seven swans a swimming in their seven ponds, but there were every other species of water fowl enjoying the aquatic oases.
Wind Down – The doggie pubs are back! With the July 4ht openings we now could resume our regular wind-down service with a stop at a nearby dog-friendly pub. And the nearest to Mill Green (according to doggiepubs.org) was Attimore Hall. They were up and doing business which involved advance booking and a range of sterilization and social distancing protocols once there. Once advantage to the distancing was that the tables were spaced out more than we typically find which provide plenty of room to lay out Grace's dog blanket on the floor to rest on while we dined. The food was nothing to rave about nor complain about. Pretty standard pub-chain fare produced competently. We certainly weren't complaining as it was our first pulled pint in nearly four months (see photo at bottom)!