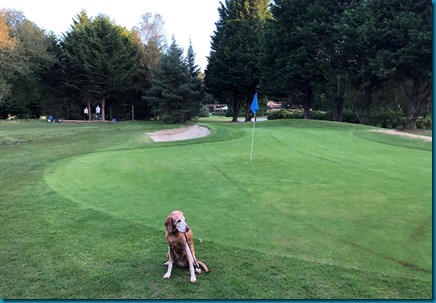 Welcome – Lavender Park doesn't just welcome dogs…it welcomes everybody. It is dog-friendly, family-friendly, everybody-friendly. Such a relaxed vibe makes it very welcoming for any one apprehensive about taking their dog out for a round for fear of how other players will react. The course is popular with novices just learning and families having some fun so no one is particularly precious about being distracted from their shot.
Walk – Just over a single kilometre for the 9 hole pitch and putt (well Hole 1 is a drivable 226 yards). On completely flat ground makes it probably the easiest course we have ever walked.
Water – There are no water hazards except for a stagnant pond in the centre of the course (which is inaccessible due to steep banks anyway). But you are never very far from the clubhouse if you are desperate for a drink (or actually, right across the street from the 7th hole are two pubs).
Wildlife – Mostly just scampering lit'uns dabbling in the game.
Wind Down – Maybe the easier the walk, the nicer the wind down as for the second time in a row we enjoyed a particularly sumptuous post-round meal at the nearby The Winning Post pub. Grace was welcomed by a bar crowd that seemed to have more patrons with canine chow-time companions than without. Being a Sunday, a roast was the special of the day and Grace particular appreciated the gravy-laden meat trimmings (it was one of the finer roasts we have eat with a some particularly interesting and tasty veg accompaniment instead of the usual, steamed-to-death soggy broccoli, peas and cauliflower).